That's it for The Age's coronavirus blog on this Friday. Thanks for checking in with us.
Here's a summary of today's big stories:
Australia's death toll has sadly climbed to 101, with the death of an 80-year-old woman in NSW.
Cruise ships will be barred from entering Australian waters until at least September, with the existing ban extended by three months.

The biggest policy miscalculation in Australian political history reignited calls for the Morrison government to extend the $130 billion JobKeeper wage subsidy to casual and foreign workers while damaging the internal standing of Treasurer Josh Frydenberg.

Up to 75 Target stores will be closed and another 92 converted to Kmart stores in a massive restructure of the struggling discount department chain. Meanwhile, all Myer stores are set to reopen by next Wednesday.
Education Minister James Merlino says Victoria's VCE cohort has "done it tough this year", but not all students will receive special consideration for their final exams which will start two weeks later than usual on November 2.
Twelve people were diagnosed with COVID-19 in Victoria yesterday, bringing the total number of cases to 1593. Five of the new cases are linked to the Cedar Meats cluster, and four are returned overseas travellers in hotel quarantine.
Have a great weekend.
In the middle of a pandemic, if a cyclone comes hurtling toward you, what should you do?
Debasis Shyamal, a fisherman, forgot about social distancing. He crammed himself into a government shelter, minutes before Cyclone Amphan crashed into his coastal village in West Bengal on Wednesday hurling winds of up to 170 kilometers (105 miles) per hour.
He stayed awake in the dark, listening to the carnage outside. "No one was thinking about the virus. We were just trying to stay alive," he said.
The cyclone has now dissipated. But the pandemic hasn't.
In the past 48 hours, the cyclone killed 77 people and the coronavirus nine in West Bengal, one of India's poorer states. Even before the cyclone, its pandemic response was lagging; the state has one of the highest fatality rates from COVID-19 in India.
With an economy crippled by India's eight-week lockdown, and health care systems sapped by the virus, authorities must tackle both COVID-19 and the cyclone's aftermath.
"I have never seen such a disaster before," said West Bengal Chief Minister Mamata Banerjee.
The challenges are many: crowded shelters could emerge as viral clusters, outbreaks of other diseases triggered by the cyclone and flooding, and jobless migrant workers returning to villages from cities like Mumbai and New Delhi, potentially bringing the virus with them.
The pandemic made evacuations harder since many cyclone shelters were being used for quarantining virus patients. Authorities said social distancing was maintained while nearly 500,000 people had been evacuated. But testimonies suggested this often was not possible.
AP
A second rating's agency has put Australia's triple A credit rating – which has sustained a record 28 years – on negative outlook.
It's raised fears about the size of household and government debt as signs grow the federal budget deficit will approach $75 billion.
Fitch Ratings joined S&P Global in warning of the growing risks to the nation's credit rating, saying it expects Australian GDP to contract by 5 per cent this year before rebounding by 4.8 per cent in 2021.
The agency expects gross general government debt, currently at 41.9 per cent of GDP, to climb to 58.2 per cent of GDP or more than $1.1 trillion.
Of the world's three major credit agencies, Moody's has maintained its AAA rating for Australia with a stable outlook.
Read the full breakdown from economic correspondent Shane Wright here.
The Age's latest editorial argues the importance of middle-sized countries such as Australia, in lieu of the failure of megapowers like the US and China.
"Ordinarily in a crisis of this sort the world would look to the US and China to step up either at international organisations such as the United Nations or the G20 or by co-ordinating their individual actions.
"Unfortunately for quite different reasons, both countries seem incapable of taking up this mantle."
It continues: "In this new world, the one positive sign to emerge over the past weeks is the hope that middle-size countries such as Australia can fill the gap and keep things together."
If you can't wait to read it in tomorrow's Saturday Age newspaper, check it out online here.
The South Australian government has bowed to pressure and further eased coronavirus restrictions after admitting to causing confusion across the hospitality industry.
New measures came into force on Friday allowing some cafes and restaurants to serve up to 10 patrons indoors as well as 10 outdoors. Previously only outdoor service was allowed.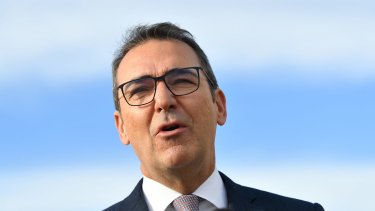 But many venues were unsure if the new rules applied to them, with distinctions made according to the type of liquor licence in place.
Premier Steven Marshall conceded this had caused issues for some businesses, and the government had acted to simplify the rules.
"To clear up that confusion we are happy to provide a further relaxation of the arrangements in South Australia," he said.
"Effective immediately, any establishment with indoor dining can avail themselves of the reduction in restrictions."
The measures also allow pubs to open immediately, but still rule out front bar service with patrons having to be seated.
The Labor opposition said the government's handling of the issue had caused more pain for businesses already hard hit by the pandemic.
Other businesses including cinemas, theatres and indoor gyms will also free to open on June 5, when stage two restrictions come into place.
South Australia again reported no new virus infections on Friday.
SA has only had one new coronavirus case over the past 30 days.
AAP
Australians will be promised a mammoth investment plan to prevent the coronavirus crisis leaving the nation with a "lost generation" of young people, as the Greens demand more help for those being thrown out of work.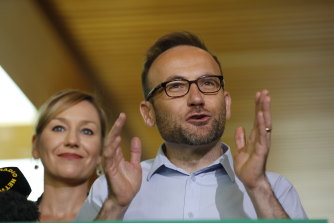 Greens leader Adam Bandt will call for a national push for full employment by pouring money into "nation-building and planet-saving" projects that can be funded in part by repealing income tax cuts for wealthier workers.
In a major speech to party members, Mr Bandt will warn the pandemic is inflicting the greatest economic harm on younger Australians who may struggle to get back into the workforce when and if the recovery comes.
"The history of recessions show us that young people get hit the hardest and for the longest and they are often forgotten about," he says.
The Prince of Wales has spoken movingly of the "heartbreak and tragedy" wrought by COVID-19 as he launched Britain's first national memorial to the tens of thousands of victims of the pandemic at St Paul's Cathedral.
In a video address Thursday, the Prince said the memorial and an online book of remembrance would help grieving relatives and friends to not only "recall our loss and sorrow" but also "to be thankful for everything good that those we have loved brought into our lives".
Watch it here:
Britain has the highest COVID-19 official death toll in Europe, as more than 36,000 people have died of the disease and its complications this year.
The Australian government has released its daily update on coronavirus statistics.
Of Australia's 7095 total cases so far, 6479 have recovered. That means there are 616 active cases. There are 39 people in hospital due to COVID-19, including seven in ICU. There have been 101 deaths.
Australia has 82 cases in the last week, from 186,500 tests nationwide.
Notably, Victoria constituted 12 of the country's 15 cases today (Friday). The other three were in New South Wales.
This graph summarises Victoria's progression in "flattening the curve", though it's yet to be fully flattened to the extent other states appear to have achieved.
Coronavirus cases in Singapore topped 30,000 on Friday as the city-state continues to report hundreds of new infections in cramped migrant worker dormitories each day.
The lowly-paid workers represented the vast majority of the 612 new cases reported on Friday, a daily infection rate that is one of the highest in Asia, taking Singapore's total cases to 30,426.
If you recall, back in March Singapore was held up as a model example of suppressing coronavirus infections.
Prime Minister Scott Morrison, in his argument why Australian schools should stay open, initially pointed to Singapore as having low infection rates while keeping schools open. Those comparisons evaporated quickly once Singapore's cases surged again.
Reuters
Watch Australian Tax Office Second Commissioner (second-in-command) Jeremy Hirschhorn explain how Treasury wrongly estimated the JobKeeper scheme would cost $130b, rather than the $70b it is now expected to cost: