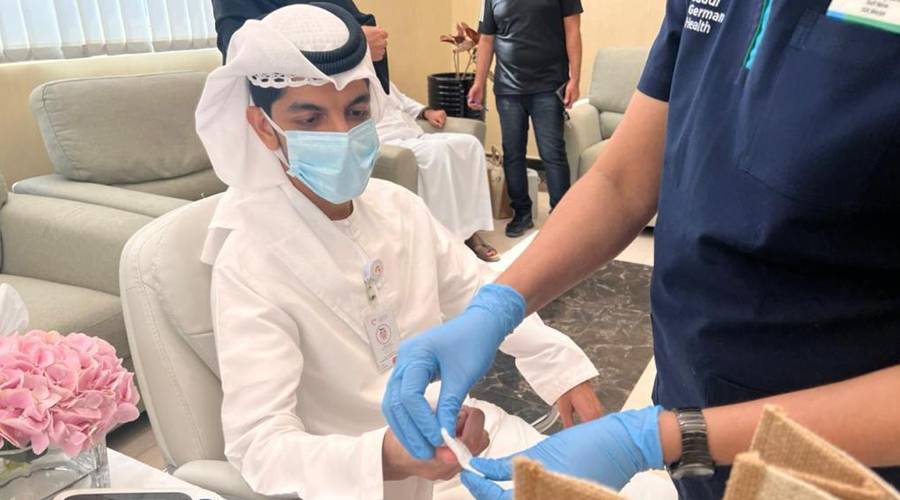 Sharjah: "The Bay"
The Diabetes Friends Association of the Health Education Department of the Supreme Council for Family Affairs reported that 785 people benefited from the continuous diagnostic and information services of the Prevention and Coexistence campaign launched by the association in the month of August, for the twelfth. years in a row with the aim of increasing society's awareness of diabetes, its causes and ways to prevent it. How to live with it and encourage healthy eating and physical exercise.
The campaign included visits to Al Wusta Channel from Al Dhaid, benefiting 260 people, Sharjah Heritage Institute 185 beneficiaries, Al Sharqiya Channel from Kalba 200 people, Holy Quran Foundation 60 beneficiaries and House of Wisdom in Sharjah 80.
Khawla Al-Hajj expressed her happiness for the joint cooperation with the concerned authorities who provided funds to support the campaign to reach this number of beneficiaries to educate them about diabetes, its dangers and how to prevent it and encourage them to acquire adopt healthy eating habits that improve their health immunity.
She emphasized that the campaign that the company organizes annually would not have succeeded without the inspiring vision of the wife of His Highness the Ruler of Sharjah, Her Highness Sheikha Jawaher bint Muhammad Al Qasimi, Chairperson of the Supreme Council for Family Affairs, who always supports and sponsors all the association's initiatives to achieve its goals.
The campaign included carrying out the necessary tests for blood sugar, cholesterol and blood pressure, and offering educational and informational consultations with the participation of Medcare Hospital, the Saudi-German Hospital and a number of doctors, specialists and health educators, and the distribution of free samples from Sebamed The campaign included also many entertainment segments, competitions and incentive prizes for children, in addition to lectures and workshops.