The charming Greek restaurant is running two brilliant deals aimed at females for International Women's Day and Mother's Day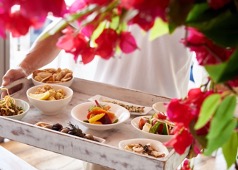 Dubai, UAE, 1st March 2022: With both International Women's Day (IWD) and Mother's Day falling this month; March at AMMOS, is all about ladies being celebrated in style.
Thanks to its Greek-chic vibes, authentic, welcoming atmosphere, indoor and outdoor dining areas and Mediterranean-inspired menu made up with taverna favorites, AMMOS is a wonderful place to be, whether you're lingering over a long lunch or enjoying a leisurely evening meal with friends. In March, these two one-off deals aimed at women only add to the appeal of a quintessentially Greek night out.
Women's Day deal (8th March)
On the 8th of March, AMMOS will be marking International Women's Day with plenty of authentic Greek hospitality, inviting women to avail a 20% discount on food from 7pm onwards and graze away on mezze plates, fabulous fresh seafood, full-of-flavour salads (the bright and beautiful traditional Greek salad is a must-try) and hearty mains, all at a reduced price.
To add to the atmosphere and because International Women's Day falls on a Tuesday this year (Live Music Night at AMMOS), there will be live entertainment throughout the evening, with talented Greek singer and musician Nikolas Papakonstantinou serenading diners every Tuesday.
Mother's Day deal (21st March)
Whether you want to show your mum just how much you adore her, fancy gathering all your mama friends together for an evening out, or the family are treating you, AMMOS is an ideal destination for a memorable and delicious Mother's Day meal.
Not only will the warm and welcoming atmosphere and authentic menu transport guests to the shores of their favourite Greek island, all females will receive a 20% discount on food from 7pm onwards on the 21st.
Diners can opt for a table out on the sun-dappled terrace overviewing Ain Dubai or enjoy their meal amidst a sea of light blues and aquamarines in the lovely main restaurant – either way, this is a fabulous way to celebrate Mother's Day.
For reservations and further inquiries-
Contact +971 52 777 9473
Email info@ammosgreek.com
Rixos Premium Dubai JBR, Dubai, UAE
Opening Hours: 12:00pm to 11:00pm