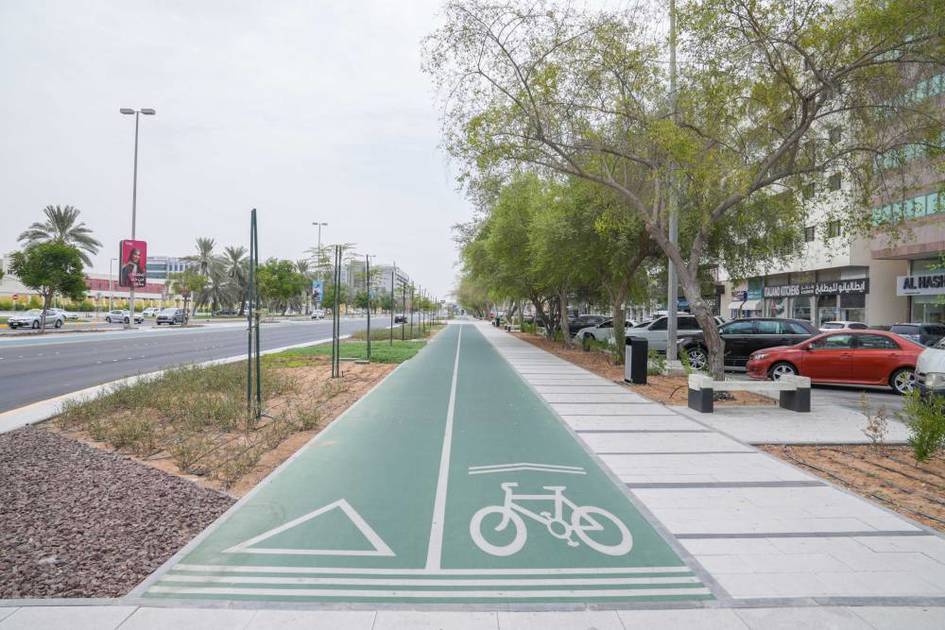 Abu Dhabi: "The Bay"
The Municipality of Abu Dhabi City, through the City Center Municipality, has completed the development of natural landscaping works on the outskirts of Delma Street from the Al Falah intersection to the intersection of Hazaa Street in the outward direction and on the central Zayed Island. First Street, within the framework of ensuring the continuous upgrading of the infrastructure components and improving the appearance General and aesthetic of the streets of Abu Dhabi and its facilities.
The project also aimed to increase the green area and develop service and recreational sports facilities to delight the residents. The scope of the Delma Street development project included several works, including: construction of a bicycle path with a length of 474 meters and a width of 3 meters, with a total area of ​​1422 square meters, and construction of pedestrian paths with a total length of 410 linear meters, planting of 87 flowering poinciana trees, 18 Ghaf trees, 11 Sidr trees, planting of 3270 ornamental shrubs of the dodonia type, planting of 8626 seasonal flowers, ground cover planting and ornamental shrubs of ruelia, delia and caesium with a total area of ​​2179 square meters. Brown cosmetic gravel with an area of ​​463 square meters, and construction of 13 rest areas paved with tiles covering the areas next to bus stops with a total area of ​​6,890 m2. The rest areas were provided with seating and other services.
As for the natural landscaping work on the central island of Zayed the First Street, it included: planting flowering trees, ornamental shrubs and ground covers, planting 220 flowering Topopia Argentina trees, planting 24,500 yellow-flowered tecoma ornamental shrubs and planting ground covers with a total area of ​​6950 square meters of the type of penicium and portulaca, and the construction of a maintenance berth on the edge of the central island, with a length of 3780 linear meters, and white cosmetic gravel on the edges of the metal fence on the middle island, with a area of ​​1250 linear meters.