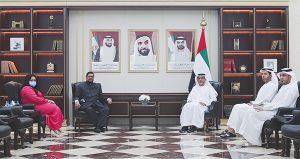 ABU DHABI / WAM
Mohammed Saif Al Suwaidi, Director-General of the Abu Dhabi Fund for Development (ADFD), has received at the fund's headquarters in Abu Dhabi Shaukat Ali Soudhan, Ambassador of Mauritius to the UAE.
Khalifa Abdullah Al Qubaisi, Deputy Director-General of ADFD; and other senior officials from both sides were present at the meeting.
The parties discussed bilateral relations and opportunities for investment that would contribute to the Mauritian economy and drive the country's sustainable development.
Al Suwaidi said, "Mauritius is one of the countries that has distinguished strategic relations with ADFD for four decades. The first project financed by ADFD in the country was a water network, following which it financed many others in various sectors, which collectively helped raise the quality of life in Mauritius."
Expressing appreciation and gratitude to ADFD for helping developing countries to strengthen their economies, Soudhan said that ADFD played an important role in driving sustainable development in Mauritius by enabling it to implement many projects in strategic sectors.