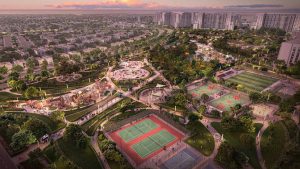 Abu Dhabi / WAM
Aldar Properties has announced the launch of Yas Park Gate, its latest gated community which will be located on the doorstep of Yas Park, a first of its kind family and recreational activity park in Abu Dhabi.
As a natural progression in the development of the second phase of North Yas, the AED1.15 billion residential development will complement the existing communities and feature 508 new homes spanning over 255,000 square meters.
Rashed Al Omaira, Chief Commercial Officer at Aldar Development, said, "Yas Park Gate represents the next stage of the broader North Yas masterplan, which will further solidify the island as one of Abu Dhabi's most sought-after destinations. Our research has shown growing customer demand for amenity-driven communities, so that has been a core focus for this development."
As such, we expect to see strong demand from both homeowners and international and local investors seeking an attractive investment opportunity."
"Yas Park Gate is within walking distance of Yas Park, which will provide residents and visitors with a full suite of recreational, leisure and entertainment offerings on their doorsteps," he added.
Construction of Yas Park Gate is due to begin in Q1, 2023, with handovers expected to commence in Q1, 2026.