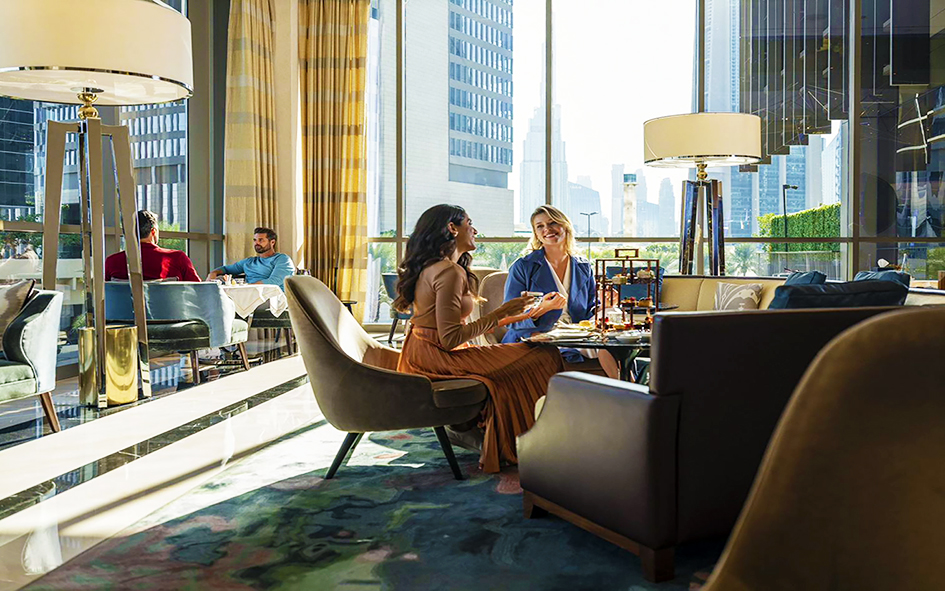 HONEY, I SAVED THE BEES: AN ALL-NEW AFTERNOON TEA EXPERIENCE AT FOUR SEASONS HOTEL DUBAI INTERNATIONAL FINANCIAL CENTRE
Penrose Lounge launches a brand-new afternoon tea experience featuring locally-sourced honey and internationally renowned delicacies.
An alluring experience of luxury and locality finds itself at Penrose Lounge. The beloved afternoon tea affair of Dubai locals and tourists alike is reinvented at Four Seasons Hotel DIFC, with an ode towards regional ingredients and a special appreciation towards the sustainable efforts of Hatta Honey.
Hatta Honey is a UAE-based honey manufacturer that also sustainably breeds queen bees and acquires bees from across the region to help them survive the hot summers of the Middle East.
The picture-perfect, rose-gold, honeycomb stand is decorated with savoury and sweet creations imagined by Executive Sous Chef Rami Nasser and Senior Executive Pastry Chef Nicolas Lambert. All five desserts and one savoury chef d'oeuvre use the locally grown, 100 percent natural, pure, raw and unfiltered honey as the sweetener in place of sugar.
Starting with a Russian classic, the lightest gustation on the menu steals the show with refined simplicity – a salmon blini. Following suit is a French favourite, potato dauphinoise topped with caviar and cured lemon. This cubed creation is made up of paper-thin layers of potato that have been baked and pan seared for the ultimate crunch. Sitting centrally atop the stand is the filo wrapped, goat cheese cigar that features Hatta Honey and flakes of gold. The prequel to the finale is a treat that takes more than 48 hours' worth of prep work to complete, the tomato tartare. The dehydrated tomato is bedded on an airy éclair and finished with caviar and silver leaves. To conclude the savoury bites is the shrimp roll with brioche, which delights with a pleasant contrast of texture.
The journey of sweets leads with the pistachio and orange blossom cake. Orange blossom chantilly cream with a drizzle of Hatta Honey crowns the pistachio cake in a beautifully delicate ensemble. To follow is a version of Chef Nicolas's famous choux with figs as the leading note in this case. The sweet burst of fig confit marmalade is what fills the centre of this pastry. The queen of this stand is the medovik, otherwise known as the honey cake – another one of Chef Nicolas's infamous creations. The pastry's bright yellow shells cocoon layers of honey mousse, honey pecan nut sable, and sour cream. The labneh and berry dessert uses the Arabian katayef pastry to create the outer shell. Within this nest is a marriage of labneh chantilly and berry confit jam that perfectly complement each other in sweetness and acidity. The closing statement is none other than a chocolate delight. Crunchy from the cocoa sable and caramelized cocoa nibs, this dessert is only made sweeter with the infusion of chocolate and honey ganache.
Of course, no afternoon tea experience is complete without tea and scones. Guests will get to select their choice of brew through a presentation of herbal aromas in partnership with Avantcha. While they await their honey-comb stand, assorted scones and madeleines will be served with classic condiments.
Be the first to experience this "bee-eautiful" and "hive-nly" afternoon tea by calling Four Seasons Hotel DIFC at +971 4 506 0000 or by sending an email at penrose.dubaidifc@fourseasons.com.
The Hatta Honey Afternoon Tea is available daily between 2:00 and 7:00 pm, AED 325 per person or AED 430 for two persons