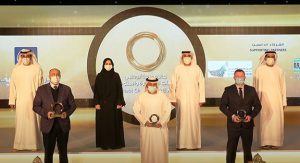 Abu Dhabi / Gulf Time
Arkal Engineering Consultants and Interior Design, the leading company in the field of engineering design and decoration, has won more than 33 prestigious local awards during its career.
For his part, Zayed Al-Khulaifi, General Manager of Arkal Engineering Consultants and Interior Design, said, "With the provision of high levels of quality, architectural and construction services and engineering consultancy, the company has been able to win many awards. The company has a specialised team of experienced and distinguished people to supervise, manage and facilitate business to meet the needs of customers, achieve their expectations, and pay attention to all the details of their projects."
It is worth mentioning that Arcal Consulting Engineering and Interior Design was established in 2006 by a team of qualified engineers and has six branches in Abu Dhabi, UAE.