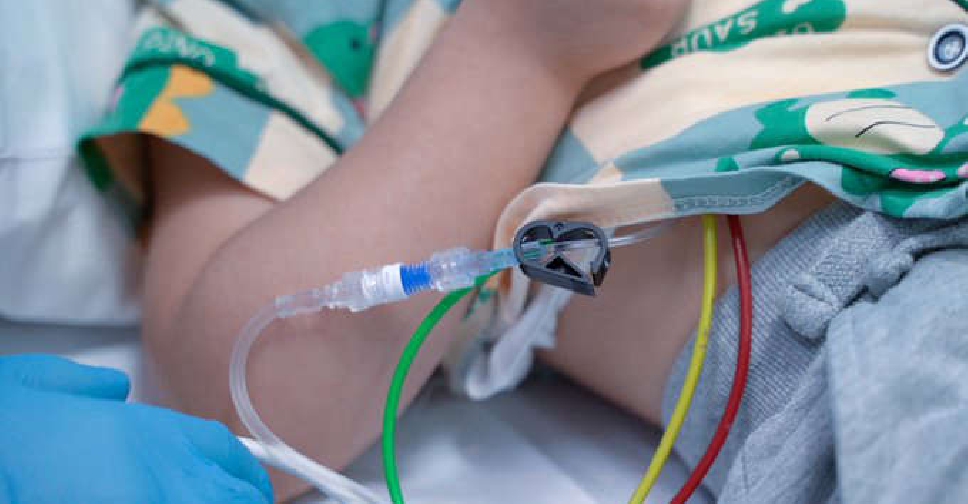 WAM via Twitter
A genetic therapy has been used for the first time in the UAE to successfully treat an Emirati boy suffering from Duchenne Muscular Dystrophy (DMD), a rapidly progressive form of the genetic disorder.
Facing difficulties in standing and walking, his parents took him to Sheikh Shakhbout Medical City.
After a series of tests he was diagnosed with DMD, a genetic disorder that causes progressive skeletal muscular weakness in children. If left without treatment, it can progress to affect the cardiac muscles and cause children to lose their ability to walk. develop scoliosis and can also shorten the child's life expectancy.
The child was later referred to Sheikh Khalifa Medical City (SKMC) to access life-changing treatment.
The therapy, known as Amondys 45, was provided by the Abu Dhabi Health Services Company (SEHA) to use for the first time in the UAE. Administered intravenously, it helps produce a protein in the body called dystrophin, defective in children with DMD, that plays a vital role in maintaining muscle strength.
Dr. Omar Ismayl, Consultant Paediatric Neurologist at SKMC, said, "This is a much-needed breakthrough and will enhance quality of life for many children living with DMD.
"Thirty per cent of children who are affected with DMD are reported as the first sufferers in their families, while 70 per cent are hereditary. This neurological condition is caused by abnormal mutations or deletion in the dystrophin gene, which produces the essential protein that allows muscles to continue to be healthy and functioning."
SEHA new targeted therapy heals 3-year-old boy's rare neurological disease #WamNews https://t.co/h8FRCY7IRa pic.twitter.com/LTUzhnNT8g

— WAM English (@WAMNEWS_ENG) April 12, 2022
More from UAE