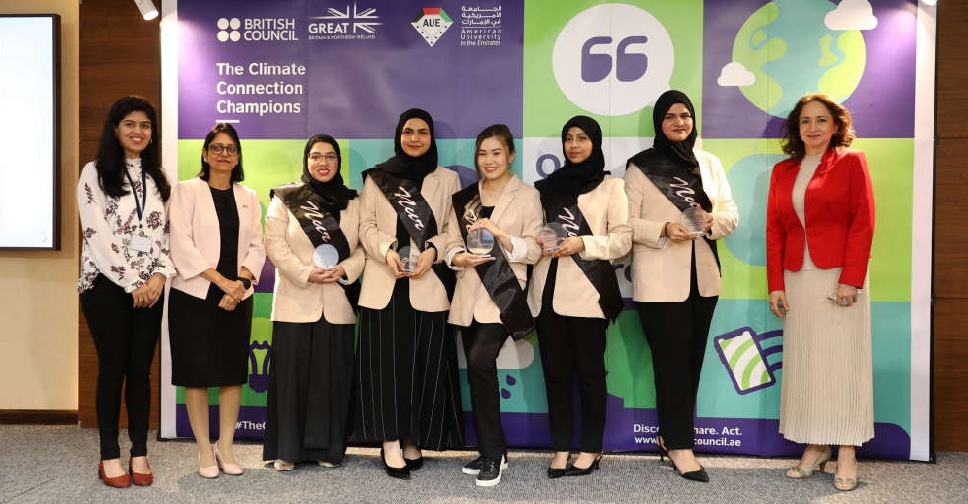 Supplied: British Council UAE
The Council's 'Climate Connection Champions Programme' supported 50 students to successfully create and implement projects in their communities to create a greener, more sustainable country.
The five-month programme started after the UK's COP26 climate conference and included a one-week workshop that also helped strengthen their leadership and team-working skills.
The four teams that were recognised were:
Team Angles: For creating an AI mobile app food waste management system fun for businesses in the DIAC area.
Team Go Green: For engaging the education community in ensuring a safe environment, free from plastic waste, for the future.
Team M's: For providing drinking water using sustainable methods to help reduce climate change.
Team AJ: For promoting awareness of the climate crisis and encouraging climate-friendly life choices such as recycling and buying second-hand garments.
Aida Salamanca, Country Director of the British Council UAE congratulated the students on their inspiring ideas and hard work.
"The Climate Connection Champions programme has all been about empowering youths to take action on climate change," she said.
"The UAE is home to beautiful nature and also depends on its nature in many ways and it has been so inspiring to see how the action plans have had great impact on the way people view climate and made actual difference when it comes to tackling environmental challenges in their communities," Salamanca continued.
The UK Trainer Mike Waldron said Climate Champions are a movement now.
"They are powerful because they harness the best of individuals, to bring about change in communities for the common good," he said. "There is no better team in my mind, to address themselves to the challenge of climate action."
Salamanca said the programme was the pinnacle of the British Council's work on sustainability in support of the UAE's Vision 2030.

More from UAE