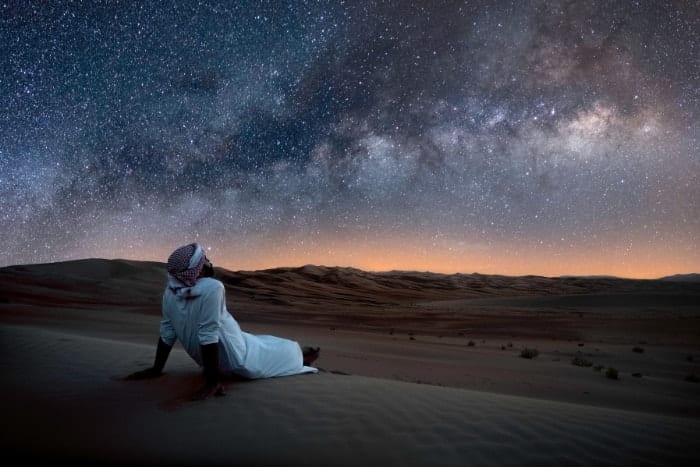 If you are keen to explore the natural world around you as a family, Connect with Nature is the gateway to discovering the great outdoors in the UAE. The Emirates Nature–WWF has partnered with the Environment Agency–Abu Dhabi (EAD) to offer an inspiring interactive journey throughout the city. They hope to build a new community of people who, like the late Sheikh Zayed bin Sultan Al Nahyan, see conservation as part of the nation's history, heritage, and ultimately its way of life.
The dual agencies have created a programme to encourage a new generation of people to discover the natural wonders of the UAE while building the leadership skills necessary to uphold the legacy of the late Sheikh Zayed through a variety of fun outings, such as kayaking in the Mangroves, learning survival skills in the desert, or busting out your best downward dog in Umm Al Emarat.
"Connect with Nature will bring our future generations closer to the land they will one day inherit, through a personal journey of exploration and discovery," commented Dr. Shaikha Salem Al Dhaheri, Acting Secretary General of the Environment Agency – Abu Dhabi. "Together with our partners, we have developed a programme that resonates with the young audience that we are targeting through an innovative and interactive approach. It will also help to foster a lasting culture of respect for nature and commitment to sustainability among local youth – values that they should functionally integrate into their everyday lives."
Start exploring the UAE in creative new ways through one-of-a-kind experiences, thrilling adventures in nature, and awe-inspiring heritage activities.
To learn more, visit connectwithnature.ae or follow Connect with Nature on social media @connectwithnature.ae
GET THE APP
Once live, the app will allow users to learn about the programme, create personal profiles, manage progress, learn about events and news, progress onto levels, earn rewards, and access the knowledge hub, an online resource library where members can browse through audio clippings, images, eBooks, blogs videos, articles, reports, and infographics from top environmental agencies. Teachers can also access resources such as quizzes, teaching tools, and learning guides to complement their lesson planning.