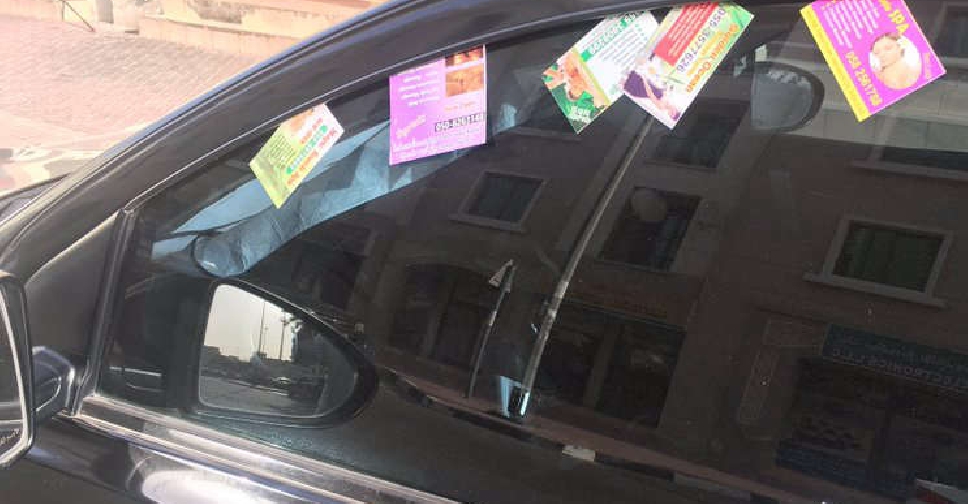 via Twitter (@Luis_Apacible)
The Dubai Police General Command has warned the public against seeking services from unlicensed massage centres, which pose serious threats, including falling victim to extortionists.
Brigadier Abdullah Khadem Suroor Al Maasem, Director of the Bur Dubai Police Station and Chairman of the Board of Directors of Police Stations, confirmed that Dubai Police has launched several campaigns to combat the activity by raising public awareness of the centres' harmful services, tracking down locations and operators of such unlicensed businesses, as well as arresting distributors of massage cards on vehicles.
Brigadier Al Maasem said Dubai Police's efforts over the last year, until the first quarter of the current year, have resulted in disconnecting the services of 919 phone numbers found on these cards, seizing 5,900,000 massage cards, arresting 879 violators, of which 588 were charged for violating public morals and 309 for printing and distributing massage cards.
"Being a front for illegal and criminal activities, unlicensed massage centres deceive victims through fake social media accounts. Once the victim arrives, they found themselves surrounded by a group of African Nationals who drag them to an apartment and tie them up to take indecent pictures of them for blackmail," Brigadier Al Maasem revealed.
The Bur Dubai Police Station director explained that this year, they distributed 600 awareness brochures to real estate companies and have sent (SMS) messages. He noted that their awareness campaign has benefited 8007 companies and reached 53,816 of their employees.
Brig. Al Maasem reaffirmed that ensuring public safety is a shared responsibility between the Dubai Police and community members.
"Dial 901 or use 'Police Eye' service via Dubai Police smart App to report any suspicious, shady and illegal activities, including these unlicensed centres and their promotors," he urged.
Brigadier Al Maasem further noted that licensed massage centres are registered on Dubai Economic and Tourism, and whoever wishes to seek their services can verify that by simply contacting the concerned authorities.
#News | Dubai Police warns against Unlicensed Massage Centres

Details:https://t.co/knz3tr14sN#YourSecurityOurHappiness#SmartSecureTogether pic.twitter.com/2sAbxbuBuC

— Dubai Policeشرطة دبي (@DubaiPoliceHQ) August 21, 2022