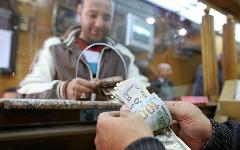 By: Abdullah Bedeir
Cairo – Mubasher: The Egyptian pound exchange rate slashed against the US dollar at some Egyptian banks on Monday, while it remained stable at state-run lenders.
The USD rate remained stable at EGP 17.55 for buying and EGP 17.65 for selling at both Egypt's two largest state-run banks, namely National Bank of Egypt (NBE) and Banque Misr.
The EGP has been also stable against the USD at both of Credit Agricole and Abu Dhabi Islamic Bank – Egypt (ADIB) at EGP 17.57 for purchasing and EGP 17.67 for selling.
Meanwhile, the EGP fell by 3 piasters in Audi Bank, recording EGP 17.78 for buying and EGP 17.68 for selling against the USD.
Moreover, the EGP slid by 1 piaster at the Commercial International Bank (CIB), as the USD registered EGP 17.57 for purchasing and EGP 17.67 for selling.
The EGP had seen a sudden jump against the greenback two weeks ago, exceeding 30 piasters, the first remarkable rise at Egyptian banks since May 2018.
The Central Bank of Egypt's governor Tarek Amer previously told Bloomberg that the USD/EGP exchange rate would see further volatility over the coming days, following the shutdown of the system allowing foreign investors to repatriate dollars.
Translated by: Mai Ezz El-Din