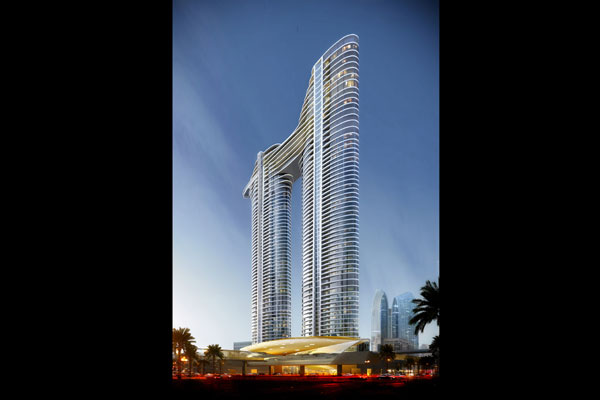 Nestled in the heart of Downtown Dubai, the much-anticipated Address Sky View by Emaar Hospitality Group is set to open doors later this year.
Featuring a duo of distinguished skyscrapers conjoined at the summit by a spectacular Sky Bridge, Address Sky View is a panoramic city viewpoint that presents unique perspectives of urban luxury, leisure and living, situated amidst the glistening Dubai skyline. With 169 rooms and suites, contemporary dining concepts, a blissful spa and magnificent event spaces, Address Sky View invites guests on a journey that is truly a feast for the senses.

Designed with an ingenious sense of style, a discerning eye for detail defines a benchmark across every facet of the rooms and suites at Address Sky View. The essence of elegance is impeccably captured across each element of the hotel, while intelligent design and spectacular service promise a sojourn of premium luxury, coupled with unparalleled views of the iconic Burj Khalifa and The Dubai Fountain.

"We are delighted to be able to bring a truly luxurious experience to complement the bustling and vibrant lifestyle in the heart of Downtown Dubai. Address Sky View will be a property of true international appeal and unmatched comfort, attracting residents and visitors," stated David Simon, general manager at Address Sky View. "We are proud of Emaar's longevity as a brand, and our ability to enhance our portfolio to meet global standards. Address Sky View reflects every nuance of luxury and elegance, and we're all set to exceed expectations and create lasting memories."

Redefining innovation and culinary finesse, each dining experience at Address Sky View is delectably distinguished. Choose from an array of options available to suit every mood and every occasion. Savoury reinterpretations of flavours from around the world warm the heart at The Restaurant, where the welcoming aura of home is captured across an array of interconnected spaces that model a deluxe apartment. Centrally positioned, The Lobby Lounge is an open yet intimate, and ornate yet comfortable choice that welcomes guests all day, for a splendid afternoon tea which will be served in a trolley all day long. For a more relaxed experience, conclude a refreshing swim in the infinity pool with an expertly curated selection of invigorating antipasti and aperitivo at the Pool Lounge, which is the perfect excuse to admire the marvellous Dubai cityscape. Guests can also visit The Café or The Patisserie for a variety of freshly prepared sandwiches, savouries and frosted cakes and pastries, paired with the signature drink 'Kisses From The Sky' along with the most premium Arabica blends.
For an elaborate evening out with friends or family, Brazilbanese is the newest addition to Dubai's vibrant dining and nightlife scene. Featuring a captivating fusion of two dynamic cuisines, Brazilbanese offers exotic interpretations of Lebanese and Brazilian flavours, complemented with live entertainment and the tunes of Samba & Bossa Nova, making every experience a celebration. Indulge in an energetic blend of cultures in this lush and colourful venue that boasts an indoor and outdoor setting, where guests can enjoy an array of sharing mezze platters with a refreshing Brazilian twist. Leading the innovative culinary team at Brazilbanese is a world-class chef and highly skilled mixologist, both of whom pride themselves in delivering a unique dining experience each time.

To complete the experience, The Spa at Address Sky View ensures blissful rejuvenation through a confluence of timeless wisdom, natural ingredients and ingenious techniques. Designed to world-class standards, the spa features dedicated spaces for beauty treatments and massage therapies, where exquisite wellness experiences are administered by skilled professionals. A state-of-the-art Fitness Centre lies within easy reach, ensuring that every avenue and amenity is available for guests to achieve holistic wellness.

Bringing together culinary flair from around the world, paired with stellar recreational facilities and a warm, hospitable atmosphere, Address Sky View promises an experience to remember. For business or for leisure, for the new visitor or the seasoned jetsetter, Address Sky View is the perfect place to discover, dine and socialize, right in the heart of Downtown Dubai. – TradeArabia News Service