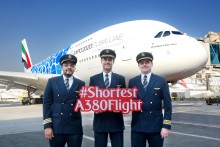 Emirates is giving travellers to and from Oman more choice, comfort and luxury with the first arrivals of its double daily A380 services to Muscat. Flights EK 862 and EK 864 were each welcomed with water cannon salutes upon arrival, ushering in the new services to Oman's capital, Muscat. Sheikh Majid Al Mualla, Divisional Senior Vice President, Commercial Operations Centre, said, "The incredibly popular Emirates A380 has arrived in Oman and we are pleased to give our customers travelling between Muscat and Dubai the opportunity to experience the iconic products and services on this aircraft."
Sheikh Ayman Bin Ahmed Al Hosni, CEO of Oman Airports, said, "We at Oman Airports are proud of Muscat International Airport which has become the embodiment of the hospitality and warmth of the Sultanate of Oman." The Muscat A380 flights will fly approximately 340 kms each way, making them the shortest A380 flights in the world. That is also shorter than the internal wiring of the A380, which when stretched from end-to-end reaches a distance of over 500 kms. The double daily A380 operations underscore Muscat International Airport's modern infrastructure and readiness to handle aircraft operations.
The twice daily A380 services operate on EK 862/863 and EK 864/865. EK862 departs Dubai at 08: 25 hrs, arriving in Muscat at 09:40 hrs. The return flight, EK 863, departs Muscat at 11:15 hrs, arriving in Dubai in the afternoon at 12:25 hrs. Emirates' late afternoon flight EK 864 departs Dubai at 16:10 hrs and arrives in Muscat at 17:25 hrs. EK 865 departs Muscat at 19:05 hrs, arriving in Dubai at 20:15 hrs. Along with the A380 services, EK 866/867, the early morning flight, is operated with Emirates' modern Boeing 777-300ER aircraft.