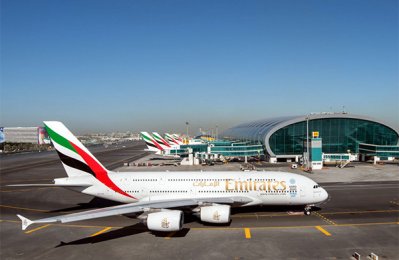 Dubai-based Emirates has been named the fourth busiest airline in the world in terms of total scheduled passenger kilometres flown last year, having carried a total of 289 million passengers in 2017.
According to the International Air Transport Association (Iata) performance statistics for 2017, the top three airlines were US-based carriers American Airlines (324 million), Delta Air Lines (316.3 million) and United Airlines (311 million).
Iata's figures also showed that Emirates was ranked the second biggest airline for cargo last year, behind Federal Express.
Emirates SkyCargo flew 12.7 billion freight tonne kilometres in 2017 as global cargo markets showed a 9.9 per cent expansion in freight and mail tonne kilometres.
Worldwide annual air passenger numbers exceeded four billion for the first time last year, supported by a broad-based improvement in global economic conditions and lower average airfares.
At the same time, airlines connected a record number of cities worldwide, providing regular services to over 20,000 city pairs in 2017, more than double the level of 1995.
"In 2000, the average citizen flew just once every 43 months. In 2017, the figure was once every 22 months. Flying has never been more accessible. And this is liberating people to explore more of our planet for work, leisure and education. Aviation is the business of freedom," said Alexandre de Juniac, Iata's director general and CEO.
Airlines carried 4.1 billion passengers on scheduled services, an increase of 7.3 per cent over 2016, representing an additional 280 million trips by air.
Airlines in the Asia-Pacific region once again carried the largest number of passengers while the Middle East took a 5.3 per cent market share with 216.1 million passengers, an increase of 4.6 per cent over 2016. – TradeArabia News Service