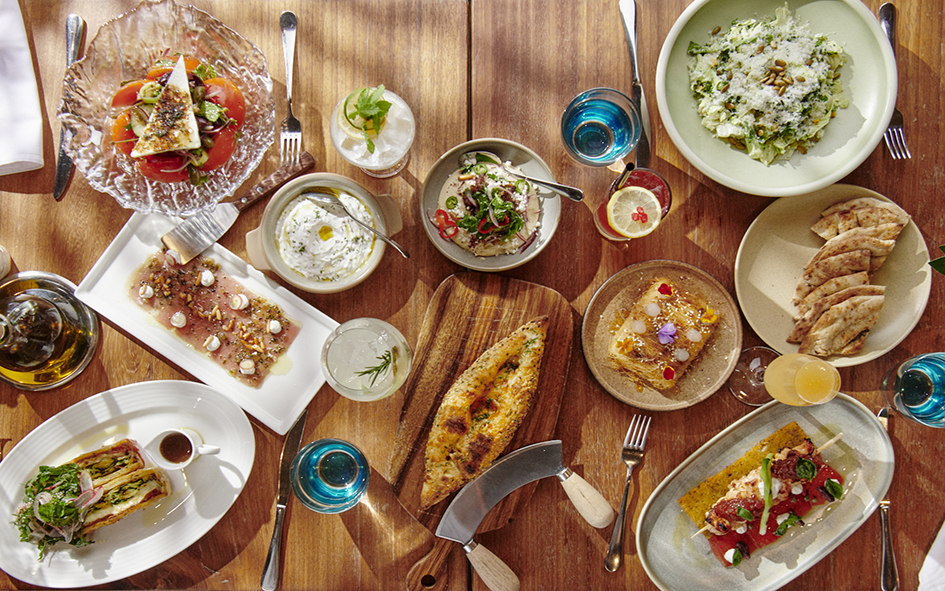 Enjoy a traditional Sunday ritual with a wholesome afternoon brunch at Dubai's Mediterranean-inspired beachside haven.
Dubai, United Arab Emirates – July 2022: As we move into the Summer season, Myrra introduces the "Finde En Familia" brunch – a Sunday feast inspired by the comforting Spanish ritual where friends and families gather over a wholesome meal on a weekly basis.
The Sunday afternoon brunch menu consists of a mouthwatering array of Mediterranean comfort foods and sharing style Spanish cuisine favorites, promising an unforgettable experience to be shared between loved ones. The experience begins with a diverse selection of sharing starters– a choice of the popular Myrra salad and Greek Salad, a fresh Tuna Carpaccio, Kataifi Wrapped Feta Cheese, and Peinirli – an open pie style filled with Tomato and Kasseri Cheese. Guests are then introduced to a range of main courses, from Pollo A La Brasa – marinated baby chicken, to a 48-hour braised Lamb shoulder – Kleftiko, Salmon Souvlaki with tomato confit and potato terrine, and a hearty favorite – Vegetable Moussaka. For those looking to feast the traditional Spanish style, a choice between Chicken & Beef Chorizo Paella and Mixed Seafood Paella Fideua is perfect for sharing between 4 guests.
For a perfectly sweet ending, the menu offers a selection of tantalizing desserts designed to enjoy in groups. A delicate Pineapple Carpaccio topped off with Greek yogurt, crispy filo pastry Milopita served with vanilla cream & apple caramel sauce, and Spain's favorite Torrija toast served with earthy hazelnut crème Anglaise and chocolate ice cream are among the Myrra's fan favorites. For the young diners, the chef has curated a special menu to appeal to the young crowd – a choice of 1 main from a selection of Mini Burger with French Fries, Myrra Salad, Three-Cheese Orzo Pasta with sides such as Peinirli Tomato,
Steamed Broccoli or French Fries and 1 dessert to pick from Sundae Ice Cream or Fruit Salad. The kids menu comes with an additional AED 100 per young diner.
This season, Myrra invites you to create memories with your loved ones through a uniquely Greek and Spanish culinary journey. Sunday brunches packages start at AED 300 for classic beverage package and 350 for the premium package.