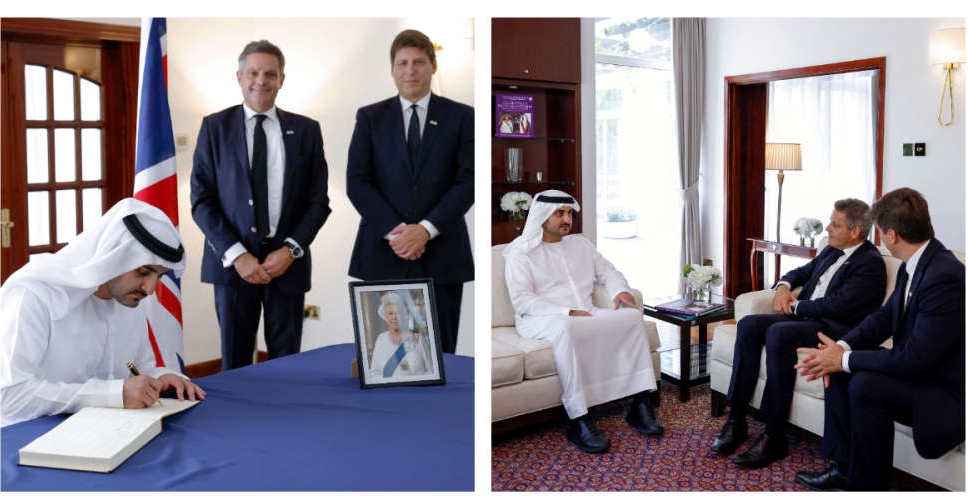 @DXBMediaOffice/ Twitter
His Highness Sheikh Maktoum bin Mohammed bin Rashid Al Maktoum, Deputy Ruler of Dubai, and the UAE's Deputy Prime Minister and Minister of Finance, visited the British Consulate in Dubai to offer his condolences on the passing of Queen Elizabeth II.
He was received by Simon Penney, the UK's Trade Commissioner for the Middle East and Consul General to Dubai and the Northern Emirates.
Writing in the consulate's condolence book for Queen Elizabeth, Sheikh Maktoum expressed his deepest condolences to His Majesty King Charles III, the royal family and the people of the UK.
He said the late monarch was an inspiring and iconic leader who won the love, respect and admiration of people around the world.
Sheikh Maktoum also highlighted the close bonds between the UAE and the UK and expressed hope that the relationship will continue to grow stronger in the years to come.

I visited the British Consulate in Dubai to offer my condolences on the passing of Queen Elizabeth II & met with Patrick Moody UK ambassador to the UAE & Simon Penney the British consul general to Dubai, we discussed the late Queen's role in strengthening the bilateral relations. pic.twitter.com/JwztvHgtrV

— Maktoum Bin Mohammed (@MaktoumMohammed) September 14, 2022

More from UAE