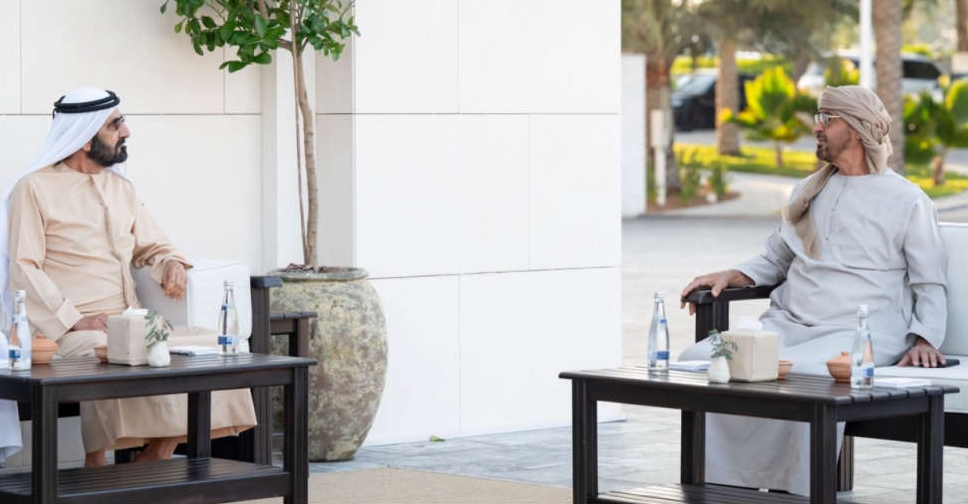 Dubai Media Office
His Highness Sheikh Mohammed bin Rashid Al Maktoum, Vice President and Prime Minister of the UAE and Ruler of Dubai, and His Highness Sheikh Mohamed bin Zayed Al Nahyan, Crown Prince of Abu Dhabi and Deputy Supreme Commander of the UAE Armed Forces, met to discuss the UAE's future plans.
During the meeting at Qasr Al Shati in Abu Dhabi, the UAE leaders discussed several issues, most notably the return to normalcy across various state departments and institutions.
Also featuring high on the agenda were the 'Projects of the 50' that aims to accelerate the UAE's developmental and economic progress to transform it into a comprehensive hub in all sectors and to establish its status as an ideal global destination for talents and investors.
The UAE leaders stressed that citizens will remain the main objective of all plans and programmes, to ensure continued social welfare and economic wellbeing.
Sheikh Mohammed took to Twitter to highlight that the "discussion was about the projects and plans of the next 50".
خلال لقائي اليوم بأخي محمد بن زايد في العاصمة أبوظبي ..الحديث كان حول مشاريع وخطط الخمسين القادمة …
أخي محمد صمام الأمان .. أخي محمد ذخر الوطن وسند الوطن .. أخي محمد رهان أبناء الإمارات على مستقبل الإمارات… حفظ الله أخي محمد .. pic.twitter.com/ILpODqNi2E

— HH Sheikh Mohammed (@HHShkMohd) February 10, 2022
Taking to Twitter, the Abu Dhabi Crown Prince wrote: "Our talks focused on ways to further enhance the standard of life for UAE society, strengthen our country's competitiveness and reinforce its positive role in the world."
I was pleased to meet with my brother, Mohammed bin Rashid, to discuss topics related to the UAE's future. Our talks focused on ways to further enhance the standard of life for UAE society, strengthen our country's competitiveness and reinforce its positive role in the world. pic.twitter.com/0xOw4ZHYte

— محمد بن زايد (@MohamedBinZayed) February 10, 2022
More from UAE