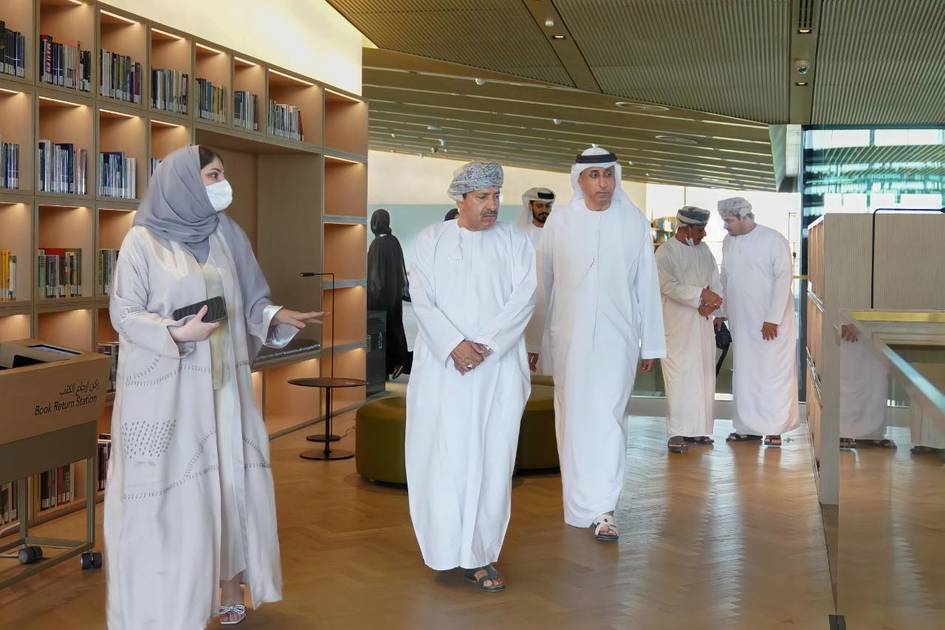 Sharjah: "The Bay"
Dr. Hamad bin Mohammed Al Dhawani, Chairman of the National Records and Archives Authority of the Sultanate of Oman and Head of the Technical Office of the Oman Cultural Complex Project, expressed his delight at visiting the House of Wisdom; The scientific and intellectual beacon that was built with the wise and sound vision of His Highness Sheikh Dr. Sultan bin Muhammad Al Qasimi, Supreme Councilor and Ruler of Sharjah. It was established on valuable foundations and fundamental principles, which are reflected in the wisdom of His Highness in choosing the name "House of Wisdom" for this scientific and cultural edifice.
Dr. Hamad bin Muhammad Al-Dhuyani said: "This is not strange for Sharjah, the emirate of science and knowledge, and its ruler, His Highness Sheikh Dr. Sultan bin Muhammad Al Qasimi, he is the head of wisdom and he is a thinker, historian, writer and reader, and at the same time he is patron of science and scholars." "The House of Wisdom" represents a center for creators, innovators and students of science and knowledge by providing a system of services and an information environment that enriches its visitors' experience and makes it an integrated knowledge society.
This happened under the host of Sharjah Documentation and Archives Authority and its Director General, Dr.
During the visit, the delegation was briefed on the house's unique experience in providing distinguished services in the library field, and the technical and artistic aspects it contained, servicing the public in an innovative way, integrating the concepts of the library and the social and cultural forum. The visit also included taking the delegation on a tour of various departments "House of Wisdom" facilities and standing in the huge library containing "Bait" which is filled with hundreds of thousands of books in various fields and the delegation got acquainted with the most prominent cultural and knowledge services that "The House" provides to visitors, which are characterized by innovation, development and modernity, and that the delegation toured the lobbies and corridors of "Al-Bayt". ", which today represents a tangible model for future libraries, including the "House of Wisdom House", dedicated to storing rare books and manuscripts.