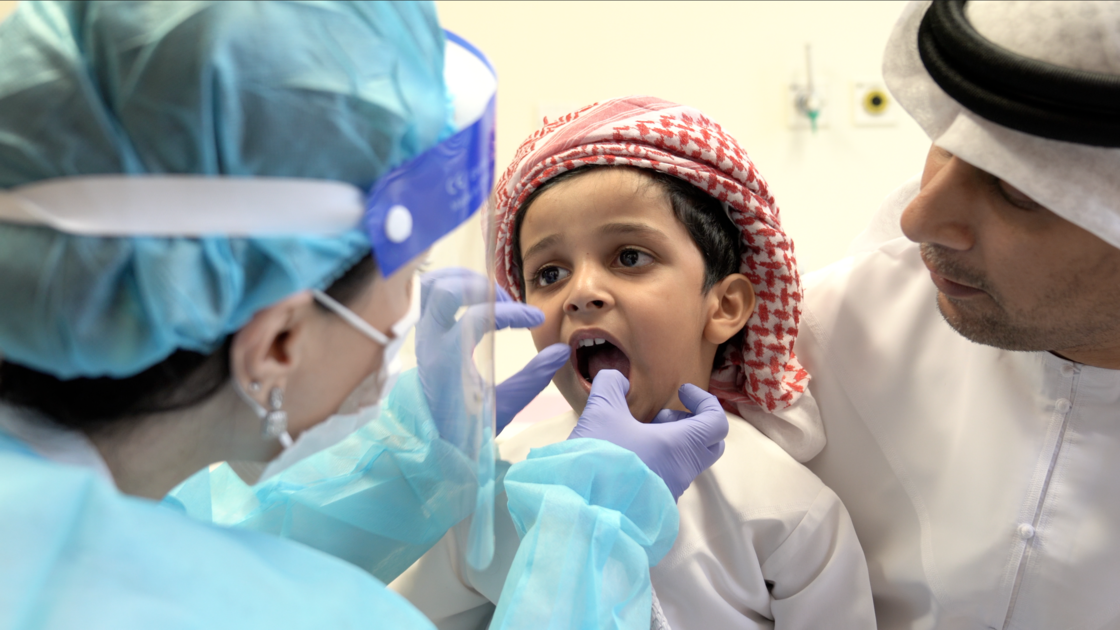 Abu Dhabi: "The Bay"
The dental clinic at the Children's Specialist Center of Abu Dhabi Health Services Company "SEHA" successfully treated several caries in a three-year-old child under the influence of nitrous oxide, also known as laughing gas, as an alternative to general anesthesia, after Sultan Sultan's parents were informed, Omar Al Kathiri told several dental clinics that he would need general anesthesia to ensure his continued cooperation with the doctor during treatment.
General anesthesia is a scary option for most people because it comes with some complications that can cause nausea and vomiting. As for nitrous oxide, known as laughing gas, it is a light gas that has a nice smell and is quickly absorbed, facilitating the process of starting the procedure (from two to three minutes). minutes).
The gas is extremely safe when used in the recommended concentrations, making it a good alternative for anxious and fearful children or even uncooperative children who need a lengthy procedure. Most children are excited to take nitrous oxide, and children often describe feeling warm and relaxed as the gas takes effect.
Dr. Dima Zaatara, Pediatric Dentist at SEHA's Children's Specialist Centre, said: "Nursing gas is a safe option for treating children's teeth. It can also be used for many dental cases in children beyond those suffering from special cases such as autism, but there are some cases, that requires general anesthesia, so I advise all parents to consult a pediatric dentist to find out available and safe options for the child instead of resorting directly to general anesthesia.. in the case of child Sultan, we were able to treat his teeth with nitrous oxide, although all the clinics that the child's parents visited before visiting the Al-Mushrif Specialized Center for Children recommended the use of general anesthesia in the case of Sultan. However, after evaluating the case, we found that his condition qualifies for the use of nitrous oxide or nitrous oxide and that there is no need to subject the child to general anesthesia at such a young age.
In return, Sultan's father said, "Sultan suffered from three tooth cavities, which caused him to suffer from severe pain. So we took him to several clinics and everyone was advised to go under general anesthesia, but we were worried about this step and we were concerned about this possibility. So when we learned that we could treat Sultan at Al Mushrif Children's Specialty Center using other safe solutions, we felt very comfortable and never hesitated to start the treatment, and thanks to the team efforts here, Sultan was treated in a session that lasted about an hour to an hour and a half, which is a great achievement. We are grateful to Al-Mushrif Children's Specialist Center for their exceptional service and quality of care that they provided to our child ."