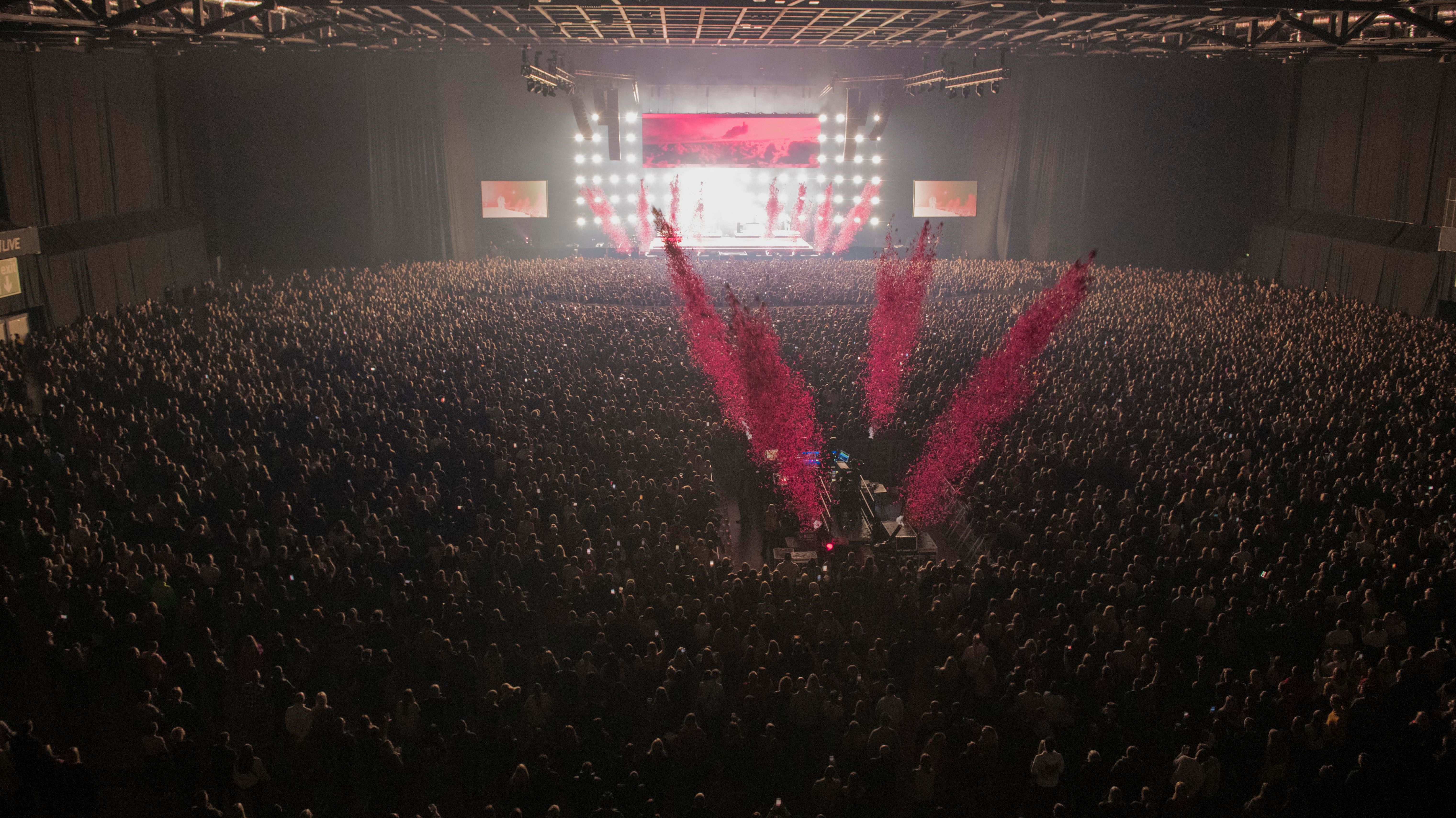 Gerry Cinnamon had held the record for more than three years
Nearly 15,000 tickets were sold for the gig
Author: Finlay JackPublished 19 hours ago
Last updated 2 hours ago
Scottish singing sensation Lewis Capaldi has set a a new record for the highest selling indoor show in Scotland.
The Glasgow-born singer sold 14,951 tickets for his north-east gig, 146 more than Gerry Cinnamon managed in Novemver 2019 (14,805).
Louise Stewart, Interim Managing Director at P&J Live, said: "Last nights' show was absolutely phenomenal.
"The perfect blend of humour and pure talent, Lewis entertained the record-breaking crowd with new music, some classic hits and gave us a few laughs along the way.
"This is a fantastic accolade for P&J Live and is exactly what the venue was built for.
"We would like to thank DF Concerts & Events for bringing Lewis up the North East of Scotland and to his fans for all their continued support – we couldn't do it without you.
"We look forward to continuing to bring a variety of world-class acts to the region."
The Event Complex Aberdeen (TECA) has a capacity of 15,000, making it the biggest indoor arena in Scotland and one of the biggest in the UK.
Glasgow's OVO Hydro holds 14,300, double that of the Emirates Arena, which is the next highest at 7,000.
Take a look through Lewis Capaldi's amazing career:
Career beginnings
Lewis learned to play the drums and guitar when he was just two-years-old, and started off singing in pubs at the age of nine. At 17, he decided to pursue a full-time career in music, and was discovered by his manager through his SoundCloud account.
2017: 'Bloom EP'
Lewis released his first EP 'Bloom' in October 2017, having worked on it with producer Malay and released 'Bruises' in March that year. He was then signed to Universal Music Group, and was long-listed for BBC's Sound of Music 2018, later supporting Rag'n'Bone Man on his European tour in November 2017.
2018: Supporting Niall Horan
After supporting Rag'n'Bone Man, Lewis came to the attention of former One Direction star Niall Horan. The pair became friends and Lewis joined him as a support act for his 'Flicker World Tour' in March 2018, before going on tour as support for Sam Smith two months later.
May 2019: The toilet brush incident
We caught up with Lewis in May 2019, and he explained the story behind the toilet brush incident from his Snapchat Story… "I wouldn't lie about that! You should have seen me when I walked into the toilet and saw what I left myself in the night, it was like a dirty Santa Claus. There are some weird people on Hollywood Boulevard, people getting photos and stuff with me, a plunger in hand."
Summer 2018: Festival appearances
Lewis took to the stage at various music festivals in the summer of 2018, playing Lollapalooza, Bonnaroo, Reading & Leeds Festival and TRNSMT. He also supported Kodaline in August 2018.
November 2018: 'Breach' EP
Lewis released his second EP 'Breach' in November 2018, containing songs 'Grace' and 'Someone You Loved', which became Lewis' breakthrough single and was Number 1 in the UK for seven weeks.
2019: Debut album and BRIT Awards
Lewis released his debut album 'Divinely Uninspired to a Hellish Extent' in May 2019, and it became the best-selling UK album in five years. He was nominated for the hugely coveted Critics' Choice Award at the BRITs 2019, which has now been renamed to the Rising Star Award, and was won in 2019 by Sam Fender.
August 2019: Elton John
Elton and Lewis became firm friends, and Lewis shared this super-cute photo of himself and Elton having lunch together.
2019: Headline tour
The album was certified Gold two weeks after the album was released. Lewis' tour was announced before the release of his album, and he became the first artist ever to sell out an arena tour before his debut album was released.
2019: 'Someone You Loved'
In October 2019, 'Someone You Loved' reached Number 1 on the Billboard Hot 100, which made him the first Scottish solo artist to top the US chart since 1981. The video for the song was released two months beforehand, and starred actor Peter Capaldi – who is a distant cousin of Lewis'. The singer was also announced as the opening act for Niall Horan's 'Nice to Meet Ya Tour', which will start in April 2020. In December 2019, Lewis recruited celebrities all over the world to help make a hilarious video to his song 'Bruises'.
January 2020: Grammy Awards
He was nominated at the Grammy Awards 2020 for the category of Song of the Year for 'Someone You Loved', unfortunately losing out to Billie Eilish for 'Bad Guy'. Lewis also had a hilarious moment at the Grammys in January, taking to Twitter with the story that he'd been mistaken for a seat filler!
When his ex-girlfriend Paige Turley went into the Love Island villa, reports surfaced that his song 'Someone You Loved' was about her – but Lewis revealed it was about his late grandmother.
2020: Justin Bieber and Lewis become BFFs
Taking to Twitter in January, Lewis treated his fans to one of his classic selfies – something we all love him for – and wrote the caption, 'I've decided that I'm equally as handsome as Shawn Mendes and Bieber.'
Justin then actually replied, saying, 'You are', before Lewis retweeted it and wrote, 'Bieber approved'.
February 2020: BRIT Awards
Lewis was nominated for four awards at the BRITs 2020: Male Solo Artist, Best New Artist, Song of the Year for 'Someone You Loved' and Album of the Year for 'Divinely Uninspired to a Hellish Extent'. He went on to win Song of the Year and Best New Artist.
January 2021: Social media break
In January 2021, Lewis announced he would be taking a break from social media to focus on creating his second album, the follow up to 2019's 'Divinely Uninspired to a Hellish Extent'.
March 2021: Lewis gives second album update
Lewis broke his social media silence in March 2021 to reflect on the previous year. He also announced he would be rescheduling his tour to 2022 due to the ongoing Covid-19 pandemic.
2022: Lewis Capaldi returns to performing live
After a break from live performances for two years, Lewis got back on stage at Parklife in Manchester in June 2022. The following week, he headlined at Isle of Wight festival, which was his first time ever headlining a festival.
The Scottish singer also headlined TRNSMT Festival in Glasgow and Latitude festival.
August 2022: Lewis teases an upcoming announcement
Although he had previously disclaimed to fans that he was 'too lazy' to finish his second album, Lewis got us all talking when he teased some sort of announcement on his TikTok, happening on 2nd September 2022.
It turned out to be the announcement of his new single 'Forget Me' which he played for the first time to fans at his show at London's O2 Arena before revealing that the full song would come out on 9th September.
September 2022: Lewis Capaldi releases 'Forget Me'
Following his exciting song teaser, Lewis released his new track on 9th September. It is the first single to come from his second album and is the first music he has released in three years.
He said of the song: 'This is it… My first new music in nearly 3 years. Couldn't be more nervous! This is… 'Forget Me' 🥀' before taking to his Instagram Stories to thank fans for their support.
On 12th September, he also released a music video for the song which he described as being his: "Favourite video that has ever been made by anybody ever". Fans of Wham! might think the music video looks familiar, as it is a recreation of their 'Club Tropicana' video.
October 2022: Lewis Capaldi announces album release date and tour
In the update we were all waiting for, Lewis Capaldi revealed that his second album is called 'Broken By Desire To Be Heavenly Sent' and will be released on 19th May 2023.
He went on to reveal that the album will include a love song with Ed Sheeran called 'Pointless'.
That's not all, as he also surprised fans with the announcement of a tour! He'll be playing several shows across the UK in January and February 2023.
October 2022: Lewis films documentary with Niall Horan
Lewis and Niall Horan are good friends and fans have been eagerly hoping for a collab between the two. While they haven't released a song together, they have created a documentary travelling around Northern Ireland and the Republic of Ireland.
Called Homecoming: The Road to Mullingar, the documentary was released on Amazon Prime Video on Friday 21st October and follows their road-trip and visit Niall's hometown Mullingar.
December 2022: Reading and Leeds Festival headline announcement
Lewis took to Twitter in December 2022 to announce the incredible news that he would be taking a headline slot at Reading and Leeds Festival 2023! In classic Lewis style, the expletive-riddled post was equal parts self-deprecating and hilarious, with a smug selfie for good measure as he called it a "dream come true" to be a headliner at the festival.
December 2022: Lewis Capaldi performed on Strictly Come Dancing
On 12th December, Lewis Capaldi performed his song 'Pointless' on Strictly Come Dancing, during the Semi-Final of the show.
December 2022: Lewis Capaldi performed on Hogmanay 2022
Lewis saw in the New Year with a special performance on BBC Scotland's Hogmanay 2022, presented by Edith Bowman.
Hear all the latest news from the North East of Scotland on the hour, every hour, at Northsound 1. Listen on FM, via our Northsound app, on your DAB radio, online at Northsound1.co.uk, or say 'Play Northsound 1' on your Smart Speaker.