Featured in the Wall Street Journal · Forbes · Bloomberg · Investors Business Daily · ABC News · BBC News · CNN/Money · MSNBC · USA Today · New York Times

Welcome to the The Lowdown from
DN Journal – your source for notable news
and information from all corners of the global domain name industry!

The Lowdown is compiled by DN Journal
Editor & Publisher Ron Jackson.

---
Live Conferences Are Back – Affiliate World Dubai 2022 Welcomed Over 4,000 Attendees Last Week

It has been a long time coming but real world conferences for Internet related businesses are back! Cloudfest, the big event for cloud, hosting, and internet service providers, is coming up March 22-24 in Germany and the domain industry's top conference, NamesCon Global returns from its pandemic-induced hiatus August 31-September 3 in Austin, Texas.

While the pandemic has been waning in many locations over the past couple of months, it is not gone, so there is still a lot of curiosity about how well face-to-face events will be received as they come back online. We may have gotten a good indicator last week when the huge Affiliate World Global – Dubai conference made its return February 28-March 1 at the Dubai World Trade Center. Some 4,000 attendees from more than 100 countries made the trip, including some familiar faces from the domain industry.
Above: A corner of the Exhibit Hall at the Affiliate World Dubai 2022 conference last week.
Below: Sedo Chief Marketing Officer Christian Voss (left) chats with Intis Telecom (IT.com) CEO Andrey Insarov at the IT.com booth. You may recall that Intis acquired the IT.com domain in 4Q-2021 in a deal valued at $3.8 million). Just last month, Andrey was featured in a prominent Forbes profile story. (Photos courtey of Igor Furdyk, LinKoeln.com)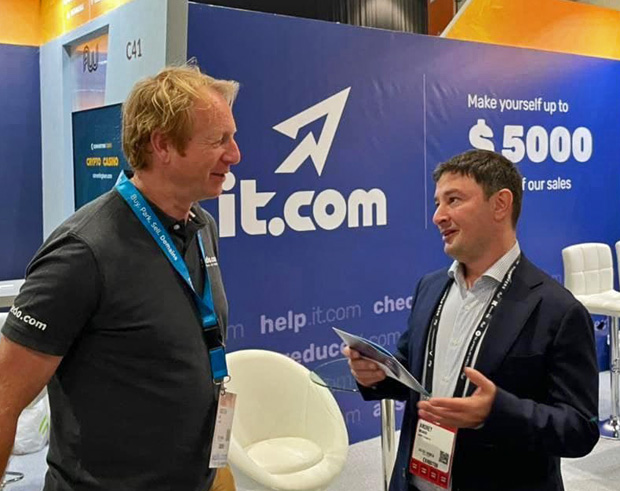 IT.com, who sells 3rd level domain registrations (for example, keyword.it.com), used the Affiliate World Dubai event to roll out a new affiliate program that pays a commission of up to $5,000 for premium sales in a new zone. The company has also launched a dedicated premium domain store at https://my.it.com/store.
Below: Munir Badr, Founder of UAE based registrar Aeserver.com (at right), re-connects with Christian and Andrey in Dubai. It is encouraging to see scenes like this again and we are hoping to see (and participate) in more of them ourselves in 2022.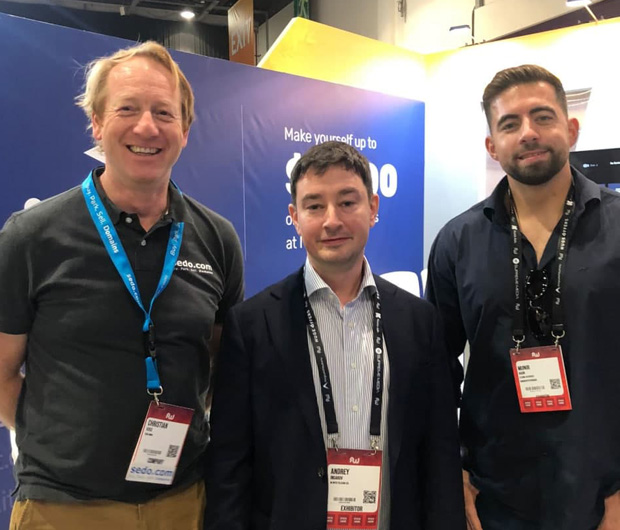 (Posted March 7, 2022)
*****
---
If you've been out of the loop lately, catch up in the Lowdown Archive!
---
We need your help to keep giving domainers

The Lowdown

, so please email editor@dnjournal.com with any interesting information you might have. If possible, include the source of your information so we can check it out (for example a URL if you read it in a forum or on a site elsewhere).
---

Follow us on
Twitter

Like us on
Facebook

Subscribe to our
RSS Feed
SITE LINKS: Home Page | Weekly Domain Sales Report | YTD Sales Charts | The Lowdown
News Headlines | Get Email Alerts | Site Archives | Classified Ads | About Us | Email Us
No photos, text or content of any kind may be copied from this site without expressed written consent. ©Copyright 2022 DNJournal.com – An Internet Edge, Inc. company.
DF