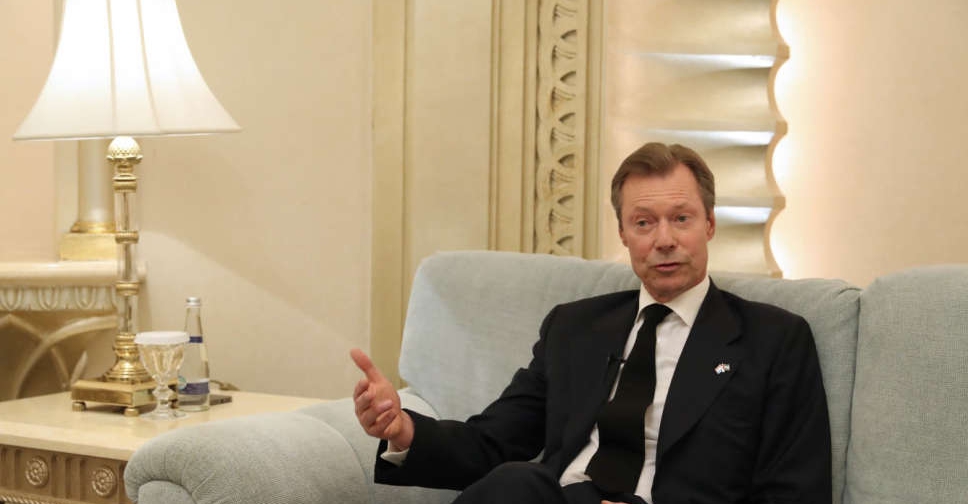 WAM
Luxembourg's Head of State has praised the leadership skills of UAE President His Highness Sheikh Mohamed bin Zayed Al Nahyan.
Grand Duke Henri told news agency WAM that Sheikh Mohamed is a well-informed person and seasoned leader who knows how to handle the issues across the Middle East.
"He is a great diplomat. He knows how to deal with the whole region in a very intelligent way. And I think he will be a wonderful new ruler of the UAE."
He visited Abu Dhabi and met Sheikh Mohamed on Monday to congratulate him on being elected President and offer condolences on the passing of Sheikh Khalifa bin Zayed Al Nahyan.
In an interview with WAM at Emirates Palace in Abu Dhabi, the Grand Duke said Sheikh Mohamed has assured him that the existing Luxembourg-UAE "strong bilateral relations" will continue as usual.
Sheikh Khalifa's incredible legacy
Grand Duke Henri said the late Sheikh Khalifa will be remembered as a wonderful man who succeeded his father and UAE's founder, the late Sheikh Zayed bin Sultan Al Nahyan, in 2004.
"Sheikh Zayd was an incredible personality. So, stepping in the shoes of such a father is always difficult. But Sheikh Khalifa has been incredible in doing so. He continued completely on the path of his father, and he has transformed the UAE the way it is today, which is absolutely incredible."
He pointed out that the Gulf region is stable and peaceful. "Sheikh Khalifa really worked a lot to make the region a wonderful place."
He expressed his country's gratitude to Sheikh Khalifa for everything he did to strengthen the Luxembourg-UAE diplomatic relations established in 1980. Since the Luxembourg's embassy was opened in Abu Dhabi in 2011, the relationship has grown tremendously with constant diplomatic interactions, noted the Grand Duke, who became Head of State of the Grand Duchy of Luxembourg in October 2000.
Earlier, as Crown Prince, Prince Henri was an ex officio member of the Council of State from 1980 until 1998, which gave him insight into the legislative and institutional procedures and workings of the country.
From 1978 to 2000, Prince Henri was Honorary Chairman of the Economic Development Committee. As such, he presided over numerous international trade and economic missions to promote the image of the Grand Duchy.
Burj Khalifa as a symbol
It is interesting to see that Burj Khalifa in Dubai, the tallest tower in the world, will forever remain as a symbol of relations between Luxembourg and the late Sheikh Khalifa, Grand Duke Henry said.
"The whole structure was built with steel and the glass from Luxembourg, which means that we have excellent products, and we can really do something interesting in the region. The Emirates can also bring us a lot of know-how and knowledge, so it's always on those two streams and we are going to continue in this way."
The Grand Duke revealed that "more and more Luxembourg people" are coming to the UAE and some of them are even living here. "The quality of life is fantastic and there's everything you need here and it's a place where tourism can be further developed."
He pointed out that the UAE is establishing cultural institutions across the country. "You have incredible museums. I visited Louvre [in Abu Dhabi] two months ago, which is absolutely incredible, and many other places in different Emirates. It is very attractive for foreign tourism, and for Luxembourg tourism in particular."