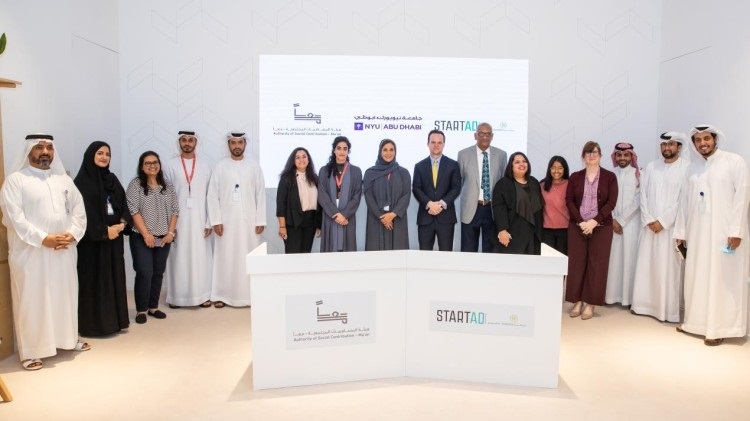 The Authority of Social Contribution – Ma'an has entered into a three-year partnership with startAD, the Abu Dhabi-based accelerator powered by Tamkeen and anchored at NYU Abu Dhabi to further a joint vision of fostering Abu Dhabi as the global hub for social innovation and entrepreneurship. The partnership will entail six editions of the social incubator, an Academic Advisory Board involving faculty members and experts to enhance intellectual leadership in social innovation, Research Fellowships studying specific local focus areas, and annual Social Impact Symposiums that will convene thought leaders and enable tangible knowledge sharing.
The partnership was signed by His Excellency Faisal Al Hamoudi, Executive Director for Social Incubator and Contracting at Ma'an of Ma'an and Ramesh Jagannathan, Managing Director of startAD and Associate Dean of Engineering at NYU Abu Dhabi; in the presence of H.E Salama Al Ameemi – Director-General of the Authority of Social Contribution Ma'an and John Tate, the CEO of Tamkeen; at The Exchange, the flagship social innovation platform by Ma'an.
The sixth cycle of its Ma'an Social Incubator (MSI) programme, themed 'Entrepreneurship for Social Good', aiming to empower and equip social entrepreneurs in the financial literacy and education technology (EdTech) sectors, and with a focus on women entrepreneurs, was announced at the program. The social incubator programme intends to support early-stage social start-ups develop high-impact solutions and scale sustainable businesses that benefit society. It is open to start-ups with a robust social mission to revolutionize education through technology, improve financial awareness, simplify investments, or optimize personal finance habits. Applications will open on March 18 and close by May 8. Up to 12 start-ups will be selected for the cohort and be onboarded to the programme.
Start-ups with existing solutions that meet the selection criteria will be shortlisted by Ma'an to undergo a 90-day training programme to transform their solutions into viable and sustainable social ventures. The cohort participants will undergo workshops and training, mentorship and coaching, and benefit from network access, access to investors, office space and funding opportunities. Through Ma'an's strategic partnerships, participants will gain exposure to an integrated environment of ecosystem partners, funding partners, media partners and sector-specific partners.