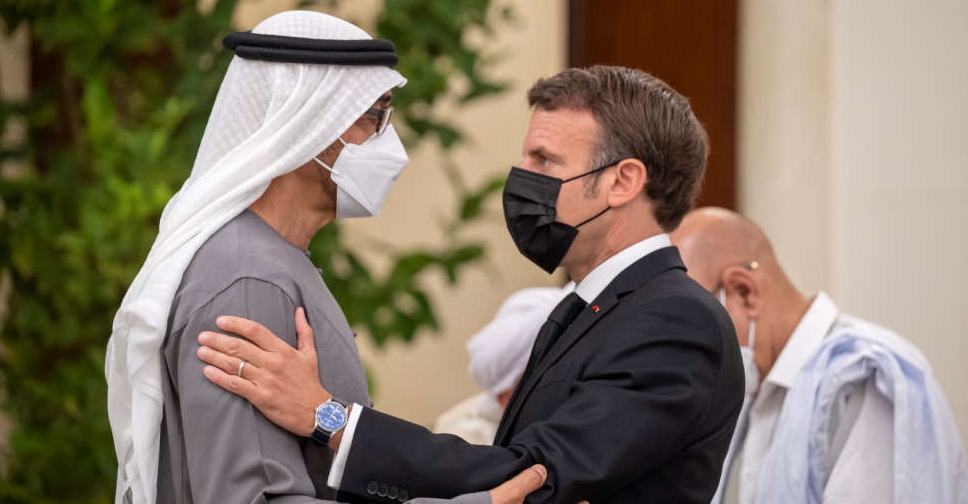 WAM
French President Emmanuel Macron has arrived in the UAE to pay his respects to UAE President His Highness Sheikh Mohamed bin Zayed Al Nahyan over the demise of Sheikh Khalifa Bin Zayed Al Nahyan.
Taking to his official Twitter handle, Macron posted an image with Sheikh Mohamed.
"In Abu Dhabi to pay tribute to the memory of Sheikh Khalifa bin Zayed Al Nahyan," Macron wrote, adding that Sheikh Khalifa was "respected by all for the values of peace, openness and dialogue that he embodied".
Macron extended his "full support for (Sheikh Khalifa) his brother who was elected President of the United Arab Emirates as well as for the Emirati people".
في ابو ظبي للاشادة بذكرى الشيخ خليفة بن زايد آل نهيان. كان يحظى باحترام الجميع لقيم السلام والانفتاح والحوار التي كان يجسدها. دعمي الكامل لأخيه الذي تم انتخابه رئيسا لدولة الإمارات العربية المتحدة وكذلك للشعب الإماراتي. pic.twitter.com/X8DxMYocrn

— Emmanuel Macron (@EmmanuelMacron) May 15, 2022
Meanwhile, Mauritanian President Mohamed Ould Cheikh El Ghazouani, President of Kazakhstan Kassym-Jomart Tokayev, President of Seychelles Wavel Ramkalawan and Indian Vice President Venkaiah Naidu also paid their respects.