Reimagine and redecorate your outdoors with unique pieces from UAE's renowned home furnishing and interiors brand.
With cooler weather just around the corner, it's time to venture out into the great outdoors. Getting some fresh air, hosting your friends and family, or simply enjoying your morning coffee while listening to the birds chirping, there is a sense of freedom in enjoying the outdoors and connecting with nature. Furnishing your outdoor space and creating your very own outdoor retreat can be fun and rewarding. Pan Emirates, UAE's homegrown furnishing and home decor brand, should be your go-to place for all things outdoor. From outdoor lounge sets to dining sets, planters to plants, loungers, and daybeds you'll find everything you need to create your outdoor oasis.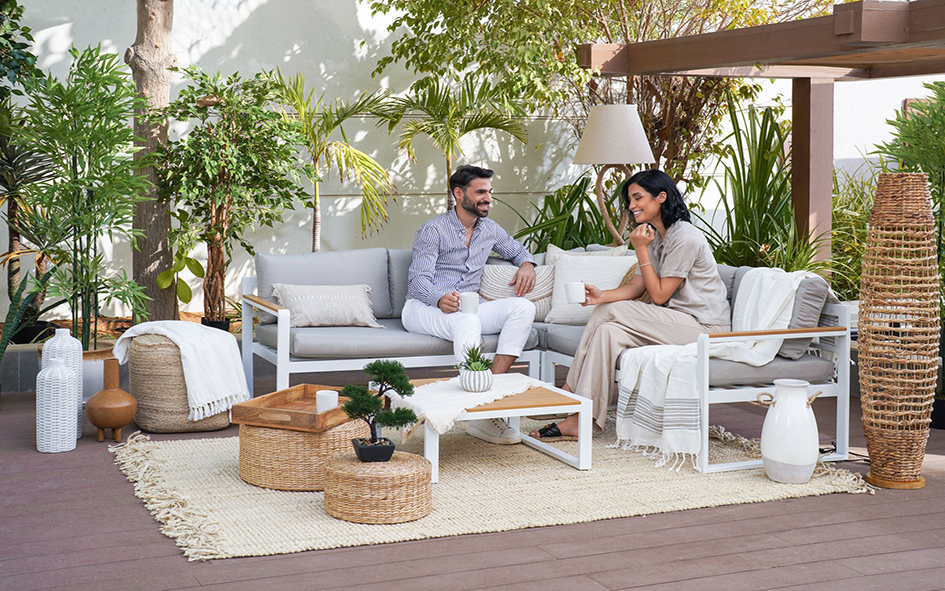 Japandi, Art Deco, Afro Chic, and Farmhouse — are four popular styles to consider and get inspiration from for the perfect outdoor look.
Bring the farmhouse charm to your home
Use natural textures to give hints of a farmhouse setting to your outdoors. Generously proportioned seating will give your space a luxurious and livable feel.
Give the outdoors a vibrant look
Eclectic and vibrant accessories offer serenity to your outdoor sanctuary. Blending function and form, the bold theme creates a calm outdoor space that's both warm and welcoming.
Add a dash of art deco to your outdoors
Make it look simple, glamorous, and comfortable with the art deco theme. The sofa set offers versatility and comfort, while the table decor further elevates the space.
Minimalism always sits right with every space
Down-to-earth, natural finishes create an organic and refined look. Incorporate
neutral tones and natural materials to bring about a calm feel.Here are some of the top picks of accessories and furnishings from Pan Emirates to create your outdoor haven.
To view the entire catalogue, please follow: https://view.publitas.com/pan-emirates-home-furnishing/outdoor/page/1. Shop the Outdoor Collection at Pan Emirates stores across Sharjah, Dubai, Abu Dhabi, Al Ain, Ras Al Khaimah & Fujairah or by visiting their website on www.panemirates.com. For more information, call Toll-free number: 800 726.