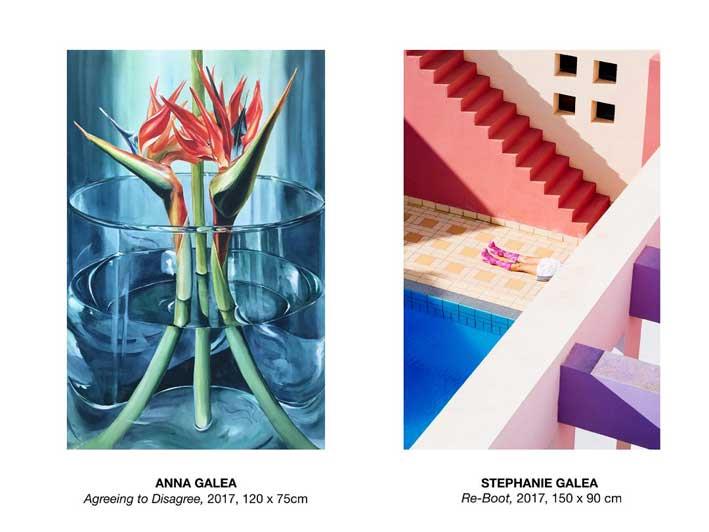 Marika Azzopardi
Wednesday, 14 February 2018, 12:20 Last update: about 1 hour ago
Visualise two women, mother and daughter, both artists of different genres, exhibiting their artworks together. Perhaps it is indicative of the fact that artistic traits run in families, or perhaps not, but nonetheless, when Anna and Stephanie Galea announced their joint exhibition recently, it elicited quite an interest, most especially because of where it is being held. The exhibition was inaugurated mid-January at The Delegation of the European Union to the United States in Washington DC in collaboration with the Embassy of the Republic of Malta and titled Women's Perspectives – A Mother/Daughter Synergy.
I have known Anna Galea for many years now and have been constantly fascinated by her evolving skills and techniques, especially those in the art of watercolour painting. Reminding me of the great flowers Lady Georgia O'Keefe, Anna has persistently produced floral and green wonders in high perspective, large, excitingly colourful and vivid enough to make one reach out and touch even while experimentation into abstraction has provided a new lease of energy to Anna's work. She is now one of Malta's leading award-winning artists.
Stephanie Galea is young, dynamic and constantly seeking new artistic avenues to experiment in. She veered career direction drastically shortly after emerging from university with a degree in chemistry, going on to train in fine art photography at Central St Martin's College of Art & Design, London. Today she is a rapidly emerging fashion photographer and visual artist travelling and working in different locations between London and Dubai. Her images and portraits have appeared on Vogue Italia, Vogue Arabia, NYLON (US), ShowStudio Online and Hunger magazine, among others. She has also been involved in producing high profile work for names such as Dior Homme, Ted Baker, Victor & Rolf, Zalando, Festival City Mall and Crew & Tailor. 
The Washington exhibition came to be following invaluable contacts made during another exhibition of artworks in which Anna participated during the summer of 2017. She was invited to present some of her works within a collective of 13 artists, at the Agora Gallery in New York. Most of her six large paintings were displayed in a very prominent position giving them superb exposure on New York City's West 25th Street, in this part of Chelsea that boasts more than 200 galleries and is appreciated as one of New York's art hubs.
The current mother/daughter exhibition in Washington, shows 10 watercolours by Anna and the nine fashion prints by Stephanie. These were introduced to the public on the opening night when the invitees were given time to view the exhibits, after which they were invited to sit in the auditorium to listen to short introductions about the topic of Women's Perspectives – A Mother/Daughter Synergy. Talks were delivered by James Barbour, head of Press & Public Diplomacy at the EU Delegation; Ulrich Mans, Legal advisor on Human Rights and UN Affairs, as well as by His Excellency the Ambassador of Malta to the United States, Clive Agius. After these short speeches, the two artists were happy to answer questions from members of the audience who were interested to ask about varied aspects of the exhibition itself, the artists' individual work, their relationship, influences and female experiences in an industry typically dominated by men and how the creation of art empowers them. The evening ended with a small reception.
'Women's Perspectives – A Mother/Daughter Synergy' will run at The Delegation of the European Union to the United States in Washington D.C. until the end of this month.
Comments
comments