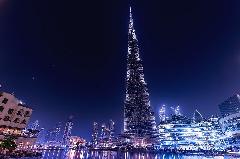 Dubai – Mubasher: The UAE's non-oil private sector's growth eased during December, a recent survey sponsored by Emirates NBD and produced by IHS Markit revealed on Thursday.
The headline seasonally adjusted Emirates NBD UAE Purchasing Managers' Index (PMI) declined to 54.0 in December, compared to 55.8 in November, marking the slowest pace of expansion in the non-oil private sector since October 2016, according to the survey.
Output also declined in the final month of 2018, recording 58.8 against 60.1 in November, while new orders fell to 58.3 from 61.0.
PMI remains in expansionary territory (50.0 is the neutral level), the subcomponents of the survey suggest that this is continuing to come at a cost to businesses' margins, albeit to a lesser degree than seen in November, the survey showed.
"The fall in output prices was mitigated somewhat by a slower pace of growth in purchase costs which expanded at the slowest pace since August," the Emirates NBD/IHS Markit survey said.
The UAE's PMI remained at 50 year-to-date, as domestic competition led to sales promotions, and a slower pace of growth in new export orders suggests that most of the new order growth was domestically driven.
"Both employment and staff costs were broadly flat compared to a month earlier. Only 1.4% of firms took on new staff while all respondents reported their staffing costs unchanged, maintaining a trend recorded throughout H2 2018," the survey highlighted.