Ssara Khan sets the pool on fire in a silver bikini
Ssara Khan made news on her birthday when she had to be admitted to a Dubai hospital after what seemed like a bad bout of stomach flu.
It was so bad that she had to be taken to the hospital in an ambulance.
Well, it seems like she is back at her hotel and is making the best of her remaining vacation time. The actress posted a sizzling picture of her from the hotel's pool side. The silver metallic bikini looks good on the petite actress. Her sister Ayra Khan also joined her in a gold and black two – piece. The actress made news last month when a video of her went viral. She was bathing in the tub while her sister went live on Instagram. Ayra quickly deleted it from Insta but the clip that went out just flashed her breasts. Sara later said that it was an accident and no one should judge her for that mistake.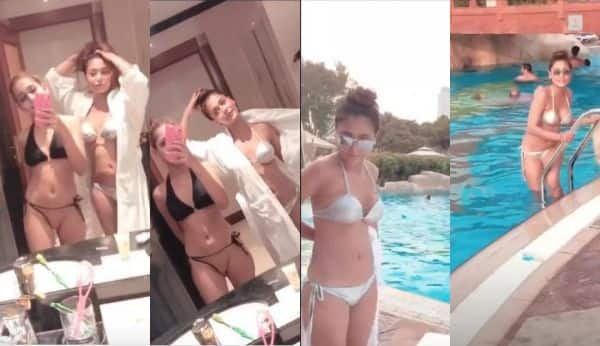 The actress has a huge social media following in both India and Pakistan.
Her bikini pictures have always gone viral.
It is evident that her best travelling partner is sister Ayra. The beauty from Bhopal became a household name with her show, Bidaai…Sapna Babul Ka.
People adored her as Sadhana. After her bathtub controversy, she said,
"Why would indulge in a publicity stunt like this? I am a girl and I am accountable to my parents. And most importantly. I don't die for making headlines with such cheap stuff. I have a lot to talk about my work instead to come in the headlines."