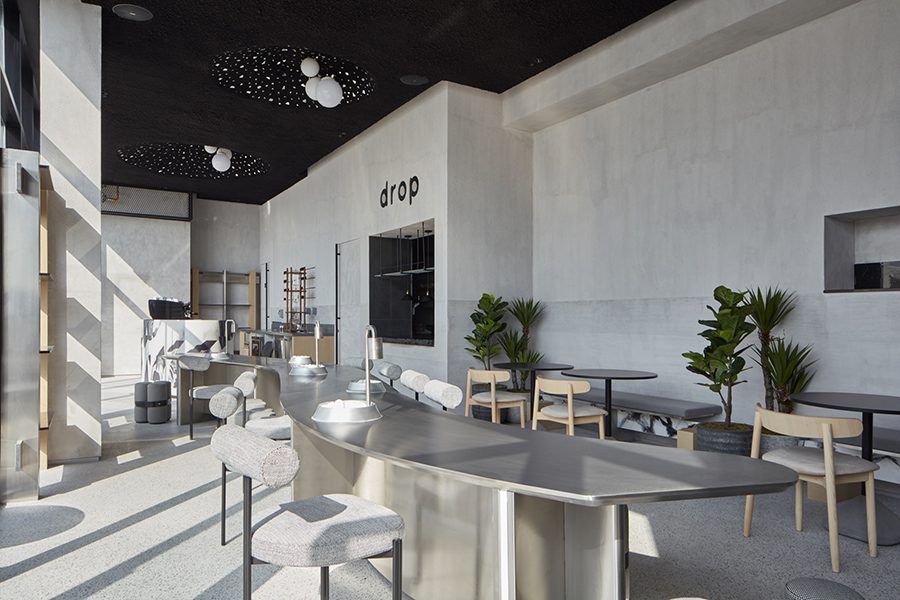 Dubai-based design studio Roar has unveiled its concept for Drop Coffee's latest outpost in Abu Dhabi. The second café in the Emirati brand's portfolio, the new location is characterized by a medley of textures that naturally juxtapose organic and industrial elements.
"We wanted Drop's Abu Dhabi location to have a different feel from the one we designed in Dubai last year while visually incorporating similar design references such as the materiality and subtle organic forms," says Roar founder and creative director Pallavi Dean. "We intentionally chose a serene, monochrome palette to infuse a sense of calm and create an environment in which guests can seamlessly meet, work and relax."
Gray concrete applied with textured paint forms Drop's rough backdrop, which is accented by natural oak joinery. The distinctive paint also adorns domed ceilings detailed with mirror shards that echo chipped terrazzo tiles that line the floors. To offset these organic details, a long brushed stainless steel communal table snakes through the café, serving as the main focal point. Light modules are installed across the table to create subtle partitions for privacy.
Booth seating features custom shelving topped with black marble to instill an artful touch, while a pair of upholstered poufs, stools, two standing tables, and a bespoke bench highlight Roar's commitment to bespoke craftmanship. Floor-to-ceiling windows fill the space with sunlight and open to an alfresco area punctuated by large neon branding.
More from HD:
Meet Hospitality Design's 2021 Wave of the Future
4 Cafés Invite Patrons to Linger
The 40 Most Anticipated Hotel Openings of 2022