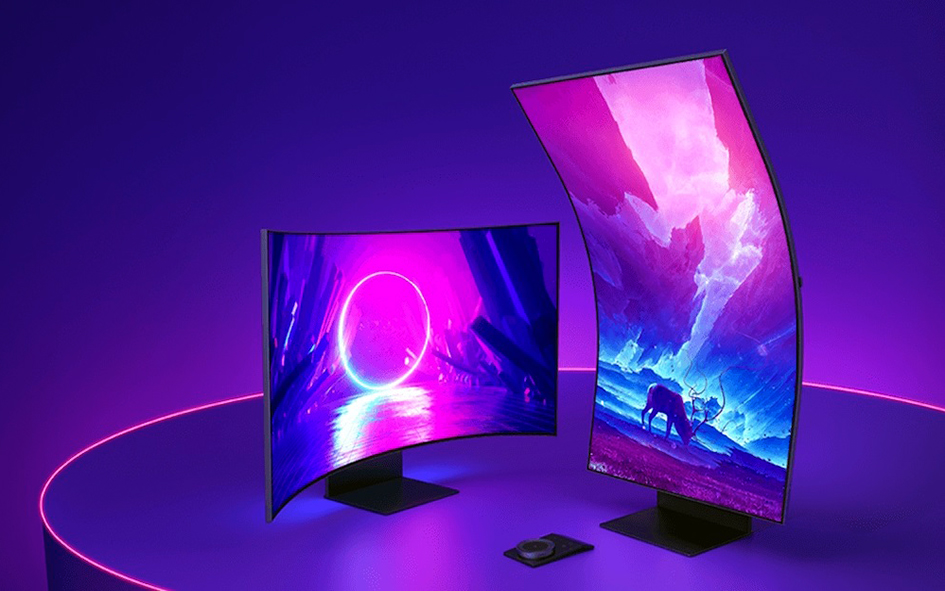 Gamers have a chance to enjoy a new frontier in gaming with unrivaled picture quality and cinematic surround sound, now available for pre-orders on Samsung.com
Dubai, UAE, August 17th, 2022 – Samsung Gulf Electronics today announced that Odyssey Ark is now available for pre-order exclusively on Samsung.com. Offering unparalleled immersion, Odyssey Ark is the world's first 55-inch 1000R curved gaming screen adds a completely new form factor to the industry-leading Odyssey lineup.
The groundbreaking Odyssey Ark is built to deliver incredible cinematic experiences, superior gaming performance and an interface that offers completely optimized flexibility. The huge display delivers a 165Hz refresh rate, 1ms response time (GtG), plus an all new Cockpit Mode and an exclusive controller, the Ark Dial – offering the ultimate window into the world of gaming with unparalleled immersion.
"Gaming monitors have gone beyond simply providing nice screens for game-playing. Products offering highly advanced features, such as fast speed, high picture quality and more, are becoming increasingly more important as they help gamers perform their best," said Wesam Abu Saymeh, Head of Display Solutions at Samsung Gulf Electronics. "The Odyssey Ark is a 55-inch, flexible and curved gaming screen that takes immersion to the next level with a multi-view experience that allows users to play games, video chat with friends and watch gaming videos at the same time."
A New Cinematic Experience
The large 55-inch screen wraps around the user's field of view thanks to its 1000R curvature, filling their peripheral vision. This is further emphasized by Cockpit Mode, which enables the screen to rotate with HAS (Height Adjustable Stand), tilt and pivot functionality for an optimal screen environment that creates a new sense of world-blending immersion.
Plus, the Neural Quantum Processor Ultra takes content quality to new heights by using data generated from 20 neural networks to enhance every visual detail, upscaling content to up to 4K resolution. The Odyssey Ark introduces magnificent sound with 'Sound Dome Tech' featuring AI Sound Booster and Dolby Atmos to enhance the surround sound experience.
Superior Gaming Performance
Along with the 165Hz refresh rate, the Odyssey Ark brings together a 4K (3,840 x 2,160) resolution featuring 1ms response time (GtG) with AMD FreeSync Premium Pro, maximizing on-screen accuracy and giving gamers a competitive edge in fast-moving environments. The Odyssey Ark also delivers powerful gaming performance and enables gamers to experience the best of gaming in one place with Samsung Gaming Hub.
Flexible Interface
Gamers increasingly expect personalized and customizable gaming experiences. The Odyssey Ark provides a range of innovative features that let gamers adjust screen size, position and even ratio for an optimal gaming setup. First, the solar-powered Ark Dial – the exclusive controller for the Odyssey Ark – can quickly and simply control a variety of settings, including Flex Move Screen, Multi View, Quick Settings and Game Bar.
The Samsung Odyssey Ark will be available for pre-order online on www.samsung.com at AED 11,999. Consumers who pre-order until August 31, 2022 will get 20x Rewards points to be used for future purchases.
For more information, please visit https://www.samsung.com/ae/monitors/odyssey-ark/