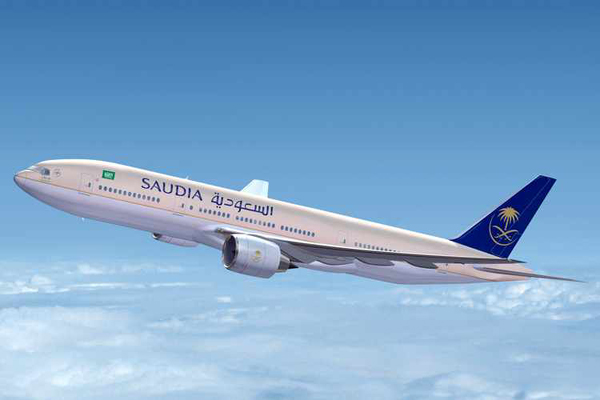 Saudi Arabian Airlines (Saudia) has announced additional seat capacity and frequencies on a number of its international routes.
The airline currently flies three frequencies per week to Singapore from Jeddah, which will increase to four weekly, with the addition of one more weekly flight effective October 29.
The Singapore route is operated with the airline's new state-of-the-art Boeing 787-900 Dreamliner, featuring lie-flat seats in Business Class and spacious Guest Class (Economy seating).
During the upcoming peak holiday period, two more nonstop flights to Los Angeles will start from December 10 till January 13, 2019, taking it up to five-weekly-flights for a limited time.
Additional seats will also become available on the Manchester route, from December 18 to January 13, 2019. The route will be operated with a Boeing 777-300ER during this period, availing 115 additional seats per flight. Saudia currently flies to Manchester five times per week from Jeddah with a Boeing 787 Dreamliner. Guests flying to Manchester can experience the latest inflight dining service in Guest Class (Economy) – Bistro by Saudia.
With increased demand to Abu Dhabi, Saudia will also begin offering an additional weekly frequency from Jeddah, taking it up to eight flights per week.
Most flights feature Saudia's latest state-of-the-art Panasonic inflight entertainment system, onboard wi-fi, more than 4,000 hours of Hollywood premiere and latest television shows, box sets, music, multi-language, international and children's programming, as well as digital and audio books, and more.
Since April this year, a free-of-charge WhatsApp texting plan was introduced for all guests to have the convenience of staying connected onboard, regardless of class of travel.
As of September 15, Saudia has expanded the plan to now include free access to iMessage, Facebook Messenger, in addition to the already available WhatsApp.
Saudia is the first airline in Europe, the Middle East, Africa and Asia regions to introduce a complimentary social media messaging plan onboard flights.
SAUDIA flies to more than 90 destinations worldwide, with a modern, mixed fleet of 155 narrow and widebody Airbus and Boeing aircraft. The airline's growing route network and double-digit growth have resulted in highest-ever passenger numbers – flying more than 22 million guests from the beginning of the year until the end of July this year. – TradeArabia News Service