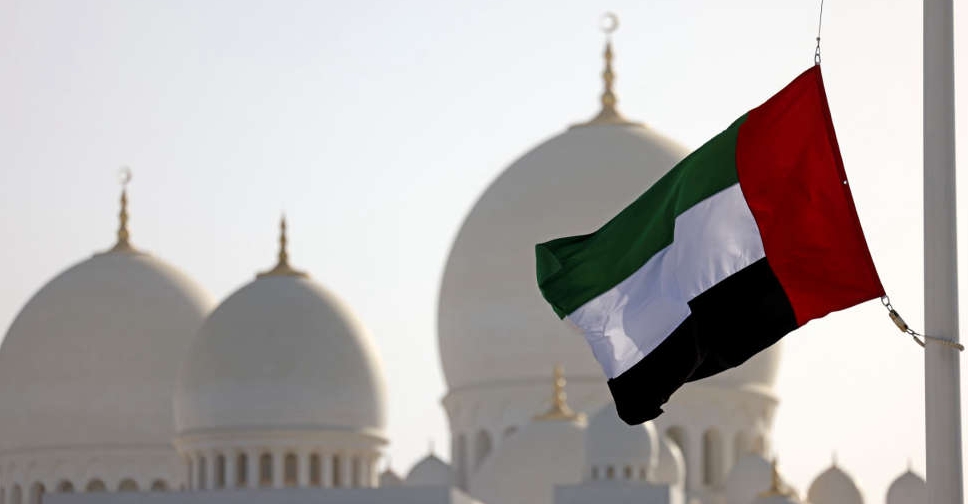 UAE flag at half-mast outside Sheikh Zayed Grand Mosque on May 13 [KARIM SAHIB/ AFP]
The late UAE President Sheikh Khalifa bin Zayed Al Nahyan has been laid to rest at Al Bateen cemetery in Abu Dhabi.
His Highness Sheikh Mohamed bin Zayed Al Nahyan, Ruler of Abu Dhabi, performed the funeral prayer at the Sheikh Sultan bin Zayed the First Mosque, where he was joined by other members of Al Nahyan family.
Sheikh Mohamed and their Highnesses accompanied the body of the late Sheikh Khalifa to his final resting place.
Funeral prayers were held in mosques across the country on Friday evening after the Maghrib prayer.
On Saturday, Sheikh Mohamed bin Zayed will receive condolences from the Rulers of the Emirates at Al Mushrif Palace.
The UAE is marking 40 days of official mourning with flags at half-mast, while work at ministries, federal and local institutions, and the private sector will be suspended for three days, starting Saturday, May 14.
More from UAE