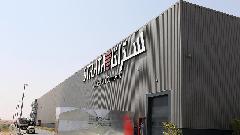 Dubai – Mubasher: Strata Manufacturing, a wholly owned subsidiary of Abu Dhabi's Mubadala, on Sunday announced that it has signed an agreement with UAE-based DGWorld (Digi Robotics Technologies) to roll out a robotics system in its manufacturing processes.
"Strata's move towards automating production capabilities with the use of robotics alongside our employees will offer greater efficiency advantages for our global customers," Arabian Business reported, citing CEO of Strata Ismail Ali Abdulla.
Under the agreement, Strata will be able to automate the company's operations assembly unit, including drilling, reaming and countersinking.
This will help the company regarding the production of aircraft components.
"This partnership enables us to expand our technological qualifications on several customer programmes, making us more advanced, competitive and efficient — a future that we are looking forward to as Abu Dhabi realises its ambitions in transforming its economy into diverse industries, inclusive of a sustainable aerospace sector," Abdulla added.
It is worth noting that almost half of Strata's manufacturers are based in the UAE.