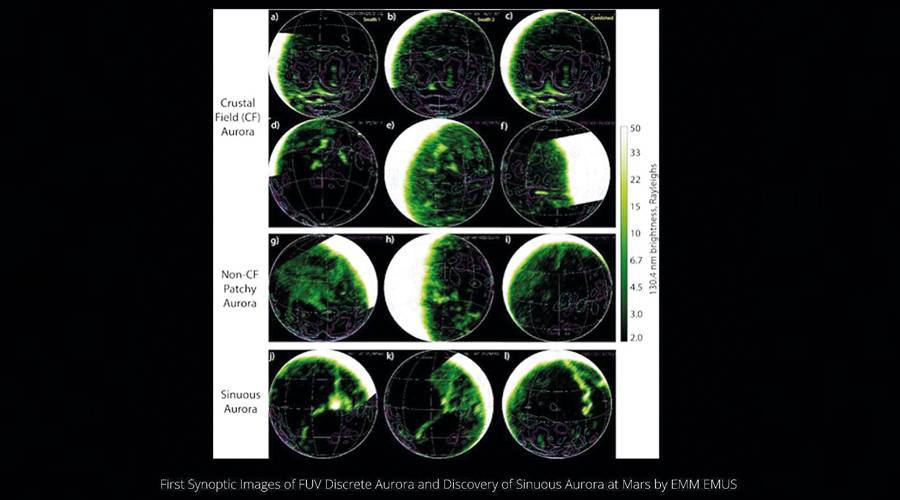 Dubai: Yamama Badwan
The Emirates Mars Exploration Project presented preliminary results of temperature fluctuations and water-ice clouds on the Red Planet, through important observations to understand the current climate of Mars, which were monitored by the infrared spectrometer, one of the scientific devices on board the "Hope Probe", in addition to providing the first comprehensive images of the aurora. Ultraviolet separation, and the discovery of the zigzag auroras on Mars, through 3 scientific papers within the Geophysical Research Letters.
And participated in these scientific papers, which were published this September, a group of experts and scientists from the US space agency "NASA" and the Emirates Mars Exploration Project, where the third scientific paper showed that the spectrometer monitored accurate details of water-ice clouds throughout the day on Mars. , which shrink near the equator to their lowest levels at midday, before re-spreading at night, providing preliminary results for the daily fluctuations in water-ice clouds during the cloudy Avionic season on Mars.
dust and moisture
In the second scientific paper, the project said that the spectrometer in the "Hope Probe" was able to monitor the estimated value of the temperature of the red planet's atmosphere, by monitoring the amount of dust, clouds and the humidity of the Martian atmosphere, where the observations of the scale indicate the relative coldness of the red planet, and the presence of a number of From thin clouds, especially near the equator, a dust storm was also observed that spread dust in most parts of the atmosphere for a few weeks.
According to the observations of the spectrometer, which were collected in 4 images, they show the temperature of the Martian atmosphere, as well as the amount of dust and clouds in the atmosphere, as well as moisture or water vapor in the atmosphere of the red planet, with the quantities changing according to time and latitude.
comprehensive photos
The first scientific paper is of interest, as it presents the first comprehensive images of discrete ultraviolet auroras, and the discovery of zigzag auroras in Mars caused by energetic electrons from the solar wind when it breaks through the upper atmosphere of Mars.
The project showed that the appearance of the aurora was represented in more than 75% of the images, with its patterns changing clearly within 15-20 minutes, with the formation of very bright aurora in locations with the strongest magnetic fields, where the separate aurora patterns were classified into 3 types, which included separate aurora Close to the strong vertical cortical magnetic field, as well as intermittent discrete auroras near the very weak cortical magnetic fields, in addition to a newly discovered type called zigzag discrete aurora.
According to the scientific paper, the separate, meandering aurora is monitored in a serpentine shape, extending for thousands of kilometers in the night side near midnight on the northern hemisphere, as these observations indicate a very dynamic environment in the space environment of the night side of Mars.