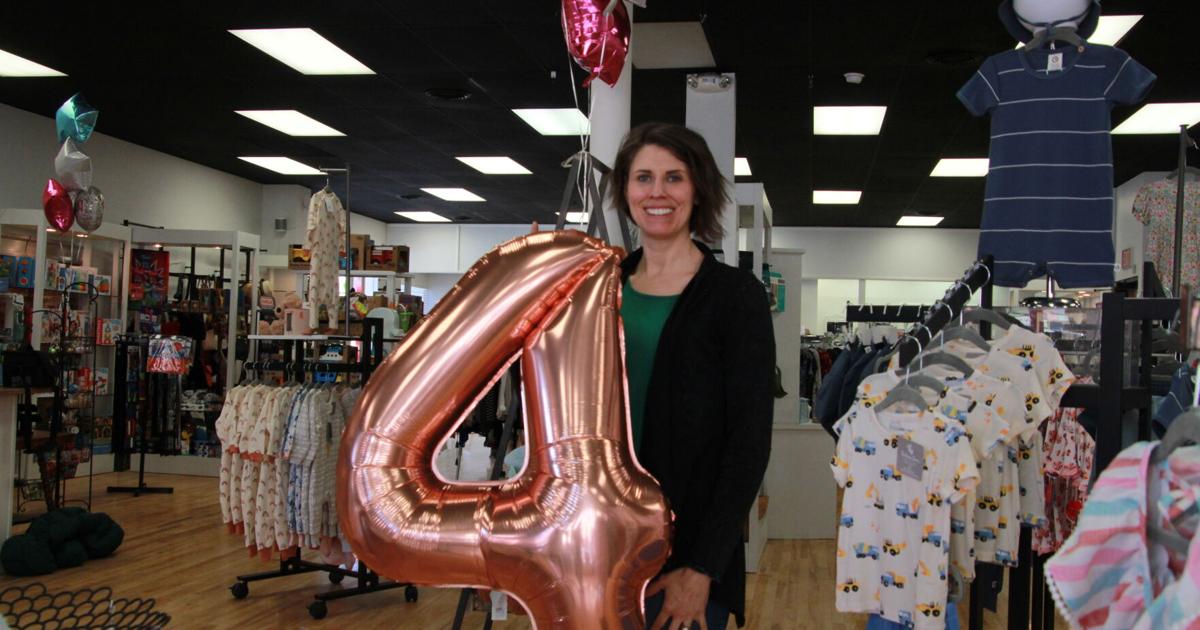 A lot has happened in the four years that Tootsie Too's has been a part of the Red Wing business community. 
Backtrack to 2019 when the owner, Jill Fanslow, added Tootsie Too's to the Red Wing Restyle store after purchasing the store from her mother in law. 
The store was located on Bush Street where Rak Boutique is now. The store didn't include children's clothing or toys. The COVID-19 pandemic hadn't hit Red Wing yet. 
"The year prior in 2018 I purchased Red Wing Restyle, which was formerly Twiced Blessed, from my mother in law," Fanslow said. "At the time I had a 5-month-old baby, our third had just been born."
Back in 2019 she had just had her third child and recognized the need for a children's clothing and toy store.
"As my husband and I were looking for ways to grow the store and find gaps that needed to be filled in the community and with another baby, we said to ourselves 'there is nowhere to get quality, sustainable clothing and toys that aren't all battery operated," Fanslow said. 
She wanted to bring more high quality products for children to Red Wing. At the same time, she wanted to continue to keep Red Wing Restyle a part of that business. 
"We decided to add a kid's retail division to our consignment store and that's how Tootsie Too's was born," she said. 
Now in 2023 the store is located on the corner of Third and Bush streets and the business has grown to something Fanslow didn't expect. 
The consignment and children's retail store combined has proven to be a successful mashup. 
Fanslow has seen customers continuously come into the store for both product types. Sometimes people come in for something from one section and leave with something from the other. 
"It seems like an odd combination, but it works. My consignors come in to bring in their clothes and then they use some of their money to buy things for their kids and grandkids," she said. "Or people will come in for a baby thing, and they will end up shopping for themselves a little bit. It works well even though it is a non traditional business model."
After the business had a successful start in 2019, the local business lifestyle was beginning to look rocky when 2020 came around. 
"2019 was a great and normal year, then 2020 came, and it shook our world just like everyone else's. The children's side of the business was a blessing during that time," Fanslow said. 
"People were still having babies, kids were still having birthdays and grandmas and aunties and moms and dads still wanted to make it special for their kids," she continued. 
Fanslow got creative with how she could still keep her business running during that time. She had Zoom shopping sessions with customers and would pick out items for them. 
She started curbside and delivery during that time. 
"It saved the business, if I hadn't added the children's side four years ago I probably wouldn't still be here," she said. 
Instead of shutting down her business due to the pandemic, the business grew and thrived. 
"I was able to grow to the point where I could come to a storefront with twice the square footage and exposure. I moved over here in January of 2021," she said. 
The move happened right in the middle of the pandemic. 
"We signed the lease for this space and did construction with masks on and social distancing and all the things in the middle of the pandemic," she said. 
Although it has only been four years it feels like many more given the endeavors the family has endured and overcome.
Fanslow is thankful for the local business community here in Red Wing and the loyal customers who want to see the local businesses succeed. 
"We are so lucky downtown, the group of business owners here collaborate so incredibly well and that is what brings people back to Red Wing," she said. 
"People come in and say 'I have never been to a town where one store owner sends me to another store to buy something because they know you have it' and we have created a bond," she continued. 
She said that COVID-19 may have helped to bring the business community together. 
"I think COVID helped create that bond because we know that together we are stronger than we are apart," Fanslow said. "We are lucky that we are getting new stores and stores are growing. I can only attribute that to all of us working together."