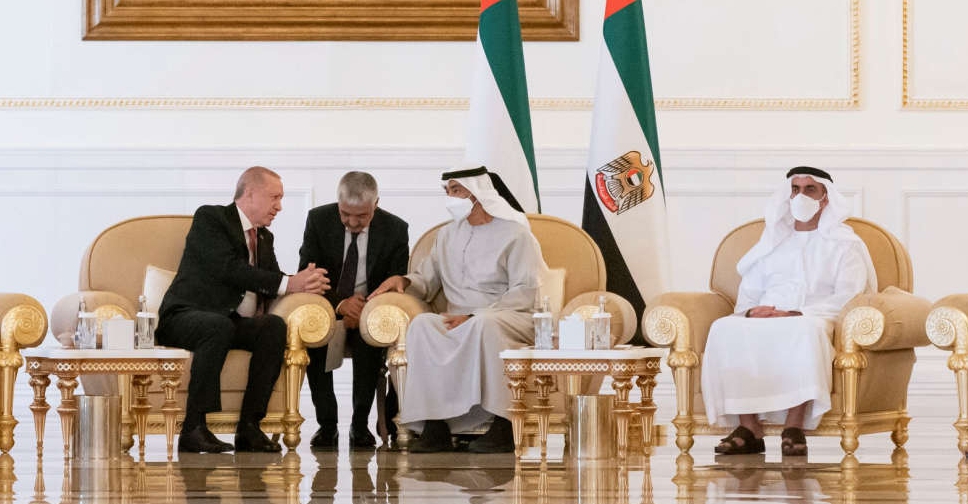 WAM
Turkey President, Recep Tayyip Erdogan, arrived in Abu Dhabi on Tuesday to express his condolences following the death of Sheikh Khalifa.
His visit is one of many made by a host of international leaders and high-ranking officials who have travelled to the capital in order to pay their respects to Sheikh Khalifa and also offer their congratulations to President His Highness Sheikh Mohamed bin Zayed Al Nahyan.
Also arriving in the capital yesterday were Sadyr Japarov, President of the Kyrgyz Republic; and Julius Maada Bio, President of the Republic of Sierra Leone.
The guests recalled the virtues of the late president and expressed their sincere condolences to the Al Nahyan family and to the people of the Emirates.
President His Highnees Sheikh Mohamed bin Zayed Al Nahyan also received phone calls from Russian President Vladimir Putin, and Iván Duque Márquez, President of Colombia.
During the call, Putin renewed his congratulations on the election of Sheikh Mohamed as UAE President, saying he is looking forward to expanding cooperation with regards to the solid ties between the nations.
President Márquez likewise congratulated Sheikh Mohamed, stressing his country's willingness to enhance cooperation with the UAE across all fields.
Sheikh Mohamed also accepted the condolences of Teodoro Obiang Nguema Mbasogo, President of the Republic of Equatorial Guinea; Greece's Deputy Prime Minister Panagiotis Pekraminos; Don Pramudwinai, Deputy Prime Minister and Minister of Foreign Affairs of the Kingdom of Thailand; and Harjit Sajjan, Minister of International Development of Canada.
More from UAE