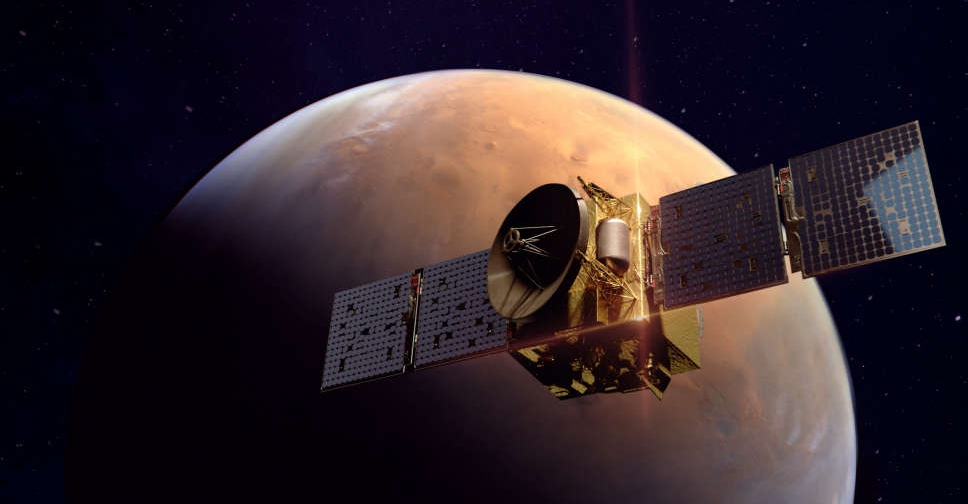 Supplied
The Emirates Mars Mission (EMM) will work closely with NASA to provide greater insight into the Red Planet.
The two sides have finalised plans to facilitate data exchange aimed at maximising scientific returns from their missions.
The UAE's Hope Probe reached Mars orbit in February 2021, while NASA's MAVEN has been orbiting the Red Planet since 2014.
Combining the two datasets will help provide a bigger picture into the evolution and dynamics of the Martian atmosphere.
His Highness Sheikh Mohammed bin Rashid Al Maktoum, Vice President and Prime Minister of the UAE and Ruler of Dubai, hailed the new data-sharing partnership.
"Happy that the Hope Probe project to explore Mars has signed a cooperation agreement with the Maven project of the US Space Agency with the aim of deepening humanity's understanding of the Red Planet," said Sheikh Mohammed on Twitter.
MAVEN and EMM are each exploring different aspects of the Martian atmosphere and upper-atmosphere system.
Hope Probe is studying the relationship between the upper layer and lower regions of the Martian atmosphere, giving the international science community full access to a holistic view of the planet's atmosphere at different times of the day, through different seasons.
MAVEN's mission is to investigate the upper atmosphere and ionosphere of Mars, offering an insight into how the planet's climate has changed over time.
"The opportunity to work alongside other Mars missions and derive greater insights by sharing our observations and working together to fit together the pieces of the puzzle is one we are delighted to take. The complementarity of EMM and MAVEN means we can truly gain a bigger picture together," said Omran Sharaf, Project Director of the Emirates Mars Mission.
The Emirates Mars Mission and NASA's MAVEN Mars Mission have finalised a science data analysis collaboration initiative that will pave the way towards an enhanced scientific collaboration and data exchange between the two projects. pic.twitter.com/pBYpZuLCm6

— Hope Mars Mission (@HopeMarsMission) April 12, 2022

More from UAE