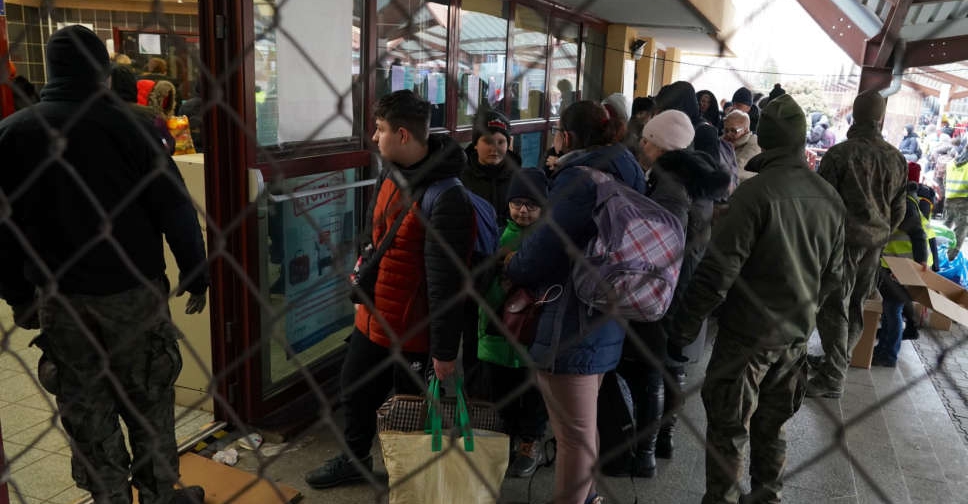 AFP/ JANEK SKARZYNSKI
The UAE sent a plane with 30 tonnes of health and medical supplies to Ukraine as part of its emergency relief efforts.
It follows an international humanitarian appeal to support displaced residents and refugees in neighbouring countries.
The aircraft landed in Lublin, Poland, with the supplies being handed over to the Ukrainian authorities to be transported to the country.
"Sending an aircraft with medical supplies and relief aid is part of the UAE's steadfast commitment to essential humanitarian needs in conflicts involving civilians, especially women and children, and to provide whatever assistance we can in what is a deteriorating humanitarian situation," said Salem A. Al-Kaabi, the UAE's Ambassador to Ukraine.
He also emphasised the UAE's commitment to adopting a humanitarian approach that supports the provision of emergency response and relief to people in need, which is central to the UAE leadership's commitment to stand by all people in the world to overcome any humanitarian emergency.
Al-Kaabi also remarked that the UAE has announced a contribution of AED18.36 million in response to the UN's emergency appeal and the Regional Response Plan for Ukrainian refugees, as a reflection of the UAE's commitment to the Principles of Humanitarian Solidarity in conflicts.
UAE sends 30 tonne emergency medical and relief aid to Ukraine#WamNews https://t.co/KbvXPKqz8M pic.twitter.com/6WmQvSkYxe

— WAM English (@WAMNEWS_ENG) March 7, 2022
More from UAE