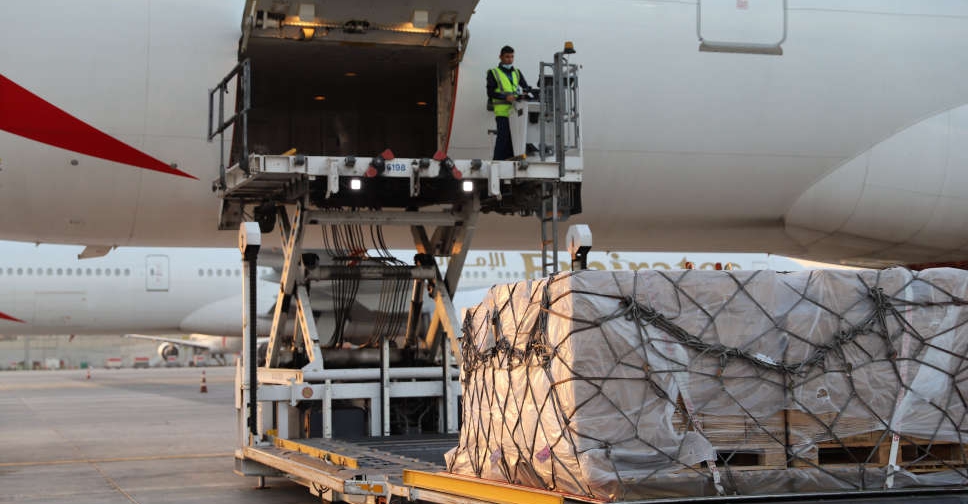 WAM (File Photo)
The United Arab Emirates has sent a fifth plane carrying 30 tonnes of medical and relief supplies to Ukraine.
It's part of providing urgent relief to impacted civilians in Ukraine, and is in response to the international humanitarian appeal to support those who are displaced in Ukraine and the 4 million refugees in neighbouring countries.
Salem Ahmed Al Kaabi, UAE Ambassador to Ukraine, said, "The UAE is keen to provide the necessary relief requirements in situations of conflict for civilians, especially women and children, in the current circumstances and resulting aggravated situation, particularly for Ukrainian refugees in neighboring countries."
Ambassador Al Kaabi indicated that during the month of March, the UAE provided an airlift of relief aid that included tonnes of food items to the Ukrainian authorities in Poland that could be transported inside the country or to help Ukrainian refugees in Poland.
Al Kaabi added, "The UAE continues to provide relief support based on the humanitarian approach of its leadership and its ceaseless efforts to provide the basic needs of peoples. This is within the values pursued by the country, where people are the priority without any discrimination or considerations."
Since the outbreak of the Ukrainian crisis, the UAE has sent two planes of relief and medical supplies carrying 60 metric tonnes. This comes as part of the UAE's announcement of a donation worth US$5 million, in response to the United Nations urgent appeal and the regional response plan for Ukraine refugees.
Moreover, the International Humanitarian City in Dubai, in cooperation with international organisations in the city, operated two planes carrying 124 metric tonnes, including relief supplies and shelter equipment.
More from UAE
UAE welcomes Yemen truce

The United Arab Emirates has welcomed the announcement by Hans Grundberg, Special Envoy of the United Nations Secretary-General for Yemen, to commence a truce and halt all forms of military operations in Yemen and on the Saudi-Yemeni borders.

UAE, Israel cooperate to advance maritime transport

The UAE and Israel have signed a Memorandum of Understanding (MoU) on cooperation in the field of maritime transport, exchange of experiences, and strengthening strategic partnership, as part of the Abraham Accords Peace Agreement.

UAE, Congo discuss boosting relations

His Highness Sheikh Mohamed bin Zayed Al Nahyan, Crown Prince of Abu Dhabi and Deputy Supreme Commander of the UAE Armed Forces, and Felix Tshisekedi, President of the Democratic Republic of the Congo, have discussed ways of enhancing friendship and cooperation between the two countries.

One Billion Meals kicks off operations today

The One Billion Meals initiative, the largest campaign of its kind in the region, begins its drive to distribute vital food support to the underprivileged and vulnerable in 50 countries today, coinciding with the first day of the Holy month of Ramadan.