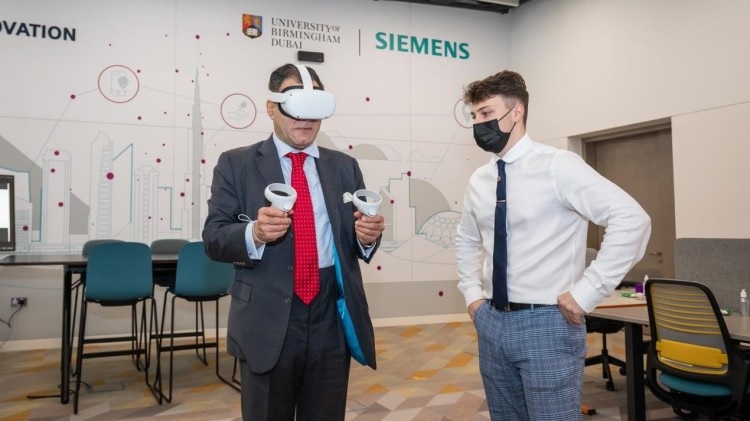 The University of Birmingham Dubai has teamed up with a technology start-up to give a young entrepreneur the chance to create a Virtual Reality (VR) teaching experience based on the science of Birmingham's Nobel Prize winners.
University of Birmingham MSc Computer Science graduate Andrew Morrin founded his own tech business – Elmdon Studios, which was recently awarded a place on the University's UoB Elevate entrepreneurial support programme.
The University of Birmingham Dubai is creating the world's smartest university campus. In a business development that could be echoed by future Computer Studies graduates from the University of Birmingham Dubai, Andrew won the opportunity to work with academics in the UAE and explore ways of enhancing teaching with VR and Augmented Reality (AR).
Andrew and the team crafted four exciting, interactive lessons that bring the research of some of the University's Nobel Prize winners to life in both VR and AR. They took just six weeks to design and deliver a pilot product that demonstrates how immersive technology can enhance the student and staff experience.
Having been awarded a place on UoB Elevate, Elmdon Studios has received a wealth of business support to help establish itself as a promising start-up with very strong digital capabilities in the VR/AR space.
The pilot will be showcased at the official opening of the new University of Birmingham Dubai campus next month. The system has been designed to engage people with an interest in research, teaching, learning and general student experience.
The application is spilt into two sections:
• Four six-minute lessons designed to educate users on the research achievements of four Nobel Prize Winners and their work.
• A fun, game-type experience in which the user has 60 seconds to knock down as many targets as possible by grabbing and throwing a number of balls. This type of experience will be ideal for open days and recruitment style activities.
Andy Morrin, Founder and Director Elmdon Studios, comments: "The University's approach to innovation is one of the things that appealed to me when I was looking at my options for where I wanted to study. The VR application we have created is just the tip of the iceberg when we consider the wider possibilities for VR application in teaching, learning and research over the long term. I hope my story inspires the next generation of students and I hope that this initiative serves as an introduction to immersive technology and acts as a teaser for what is to come."