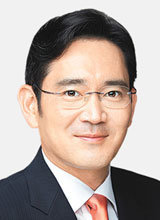 Samsung Electronics Chairman Lee Jae-yong (pictured) has chosen the Middle East as his first overseas destination after taking office. He will attend a private high-level meeting of political and business leaders in the United Arab Emirates.
According to a business person on Sunday, Chairman Lee left Korea for a visit to Abu Dhabi. Details of the trip have not been made public, but Lee is expected to attend an annual private roundtable hosted by United Arab Emirates President Mohamed bin Zayed Al Nahyan.
President Mohammad was elected in May this year. Since becoming crown prince, he has been hosting global entrepreneurs and political leaders at year-end parties. The event was attended by Crown Prince Mohammed bin Salman of Saudi Arabia, former British Prime Minister Tony Blair, and former French President Nicolas Sarkozy. Last December, Chairman Lee also participated in the event.
Chairman Lee also met with then-Crown Prince Mohammed in February 2019 to discuss future business cooperation plans in semiconductors and other fields. President Mohammad visited South Korea in the same month and visited the Hwaseong manufacturing base with President Lee, showing a strong intention to cooperate.
Kwak Do-young now@donga.com