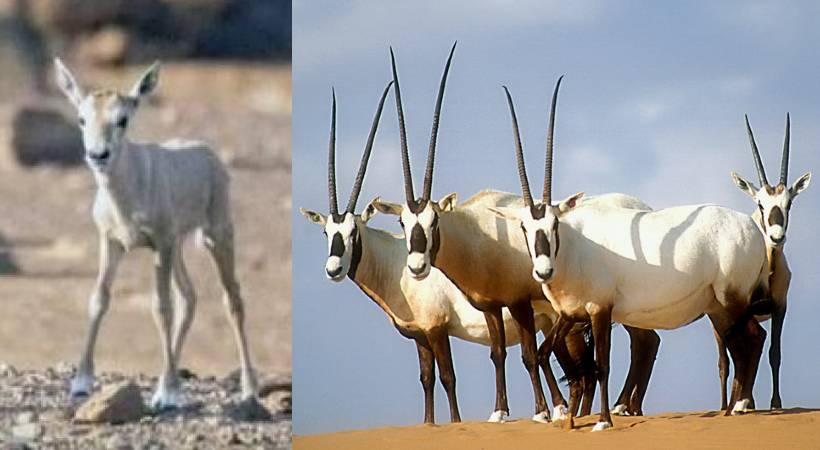 The Arabian oryx (white oryx), a species of blackbird, was born nine decades later in the King Salman Royal Reserve Forest in Saudi Arabia. The natural reproduction of the Arabian oryx takes place years later. Experts say that this is good for the balance of nature. It is the smallest species in the genus Oryx. The main feature of the Arabian oryx is its dense fleshy tail and very long, protruding horns. It is also the national animal of the UAE. Adult white oryx can weigh up to 80 kg.
Arabian oryx is found in treeless grasslands and deserts on the Arabian Peninsula. Various studies have shown that white oryx have been disappearing from their natural habitat since the 1970s. Efforts to restore them to their natural state have been underway in Saudi Arabia since the 1980s.
Read Also: Saudi Arabia is the world's largest exporter of dates
Their numbers are declining due to poaching and environmental degradation. Arabian oryx are disappearing from the wild. The National Center for Wildlife and the King Salman Royal Reserve Development Authority are jointly developing and implementing various schemes for the protection of endangered species.
Story Highlights: After a gap of 90 years, a baby was born to an Arabian oryx in Saudi Arabia
Subscribe to our ചാന ചാന YouTube Channel കാണാൻ to watch Twentyfour News, ഗ Augmented Reality Packages and ‌Explainer in detail anytime, anywhere in the world
Related