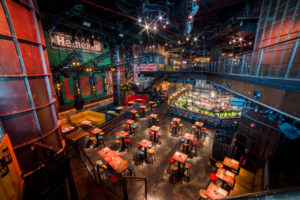 Event: Jack Daniel's Battle of the Bands at Lock, Stock & Barrel
Details: The UAE's favourite party bar and home of live music, Lock, Stock & Barrel, together with Jack Daniel's, one of the world's most iconic brands* and a strong supporter of music, is on the hunt for the most rocking, talented band in Dubai. Warm up those vocal cords and get ready to Make It Count on stage, own the crowd and head home with AED 35,000!
Solo artists and bands are being called upon to send in a short clip of their best performance on Lock, Stock and Barrel's website, including all band's details to get shortlisted.
Set to rock the whole city, the Battle of the Bands will commence across all Lock, Stock & Barrel venues in Dubai, including Barsha Heights, Business Bay and JBR locations.
Schedule:
From 7pm onwards:
Heat 1: Wednesday, June22nd @ Lock, Stock & Barrel Barsha Heights
Heat 2: Wednesday, June 29th @ Lock, Stock & Barrel Business Bay
Heat 3: Wednesday, July 6th @ Lock, Stock & Barrel Barsha Heights
Heat 4: Wednesday, July 13th @ Lock, Stock & Barrel Business Bay
Heat 5: Wednesday, July 20th @ Lock, Stock & Barrel Barsha Heights
FINALS. Wednesday, July 27th @ Lock, Stock & Barrel JBR
Location:
Lock, Stock & Barrel, Rixos Premium Dubai, Jumeirah Beach Residence
Lock, Stock & Barrel, Grand Millenium Hotel, Barsha Heights
Lock, Stock & Barrel, Grand Millenium Hotel, Business Bay