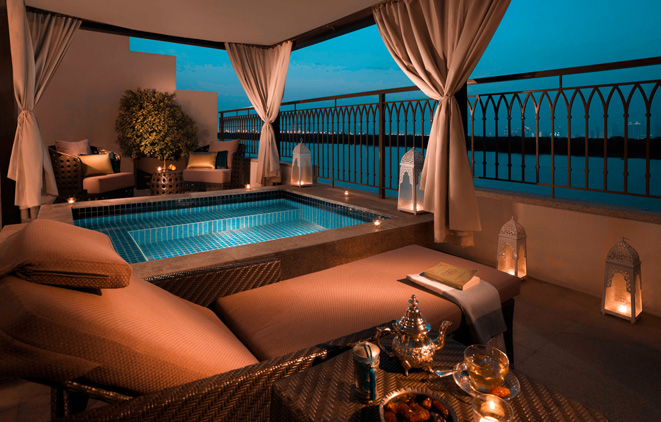 26 April 2022 (Abu Dhabi, UAE) — Anantara Eastern Mangroves Abu Dhabi Hotel has announced an exclusive line-up of Eid celebrations for the month of May. Guests can enjoy exceptional savings on room packages for a special Eid Escape, join one of the hotel's lavish Eid dining events, or indulge in a luxury treatment at Anantara Spa.
Room specials booked through Anantara Eastern Mangroves' official hotel page receive additional perks: 25% off food and beverages (excluding in-room dining and afternoon tea), AED 200 credit at Anantara Spa, a complimentary room upgrade and late check-out until 4.00 pm (subject to availability, excluding suites).
An Exceptional Eid
Eid Escape
Treat yourself to a luxurious stay in an urban oasis overlooking the mangroves. This Eid getaway includes spacious accommodation – your choice of a room or suite – plus Eid buffet lunch or dinner. Stay period from 1st to 7th of May. Price starting from AED 725 per night.
Eid Brunch and Dinner
Join us for an irresistible Eid buffet brunch or dinner at Ingredients restaurant. This year, we're hosting two brunches May 2nd & 3rd featuring all your cherished Eid dishes, plus cuisines from around the world. Enjoy fresh salads, rich soups, sushi and seafood plus indulgent sweets and unlimited drinks. For dinner, a themed buffet dinners will be prepared by our chefs to complement the celebration. 2nd of May will feature Arabic themed dishes, while 3rd of May will highlight the best of Asia.
Eid Brunch:
Date: 2nd of May & 3rd of May
Time: 1.00 pm – 4.30 pm
From AED 245 per person
Eid Dinner:
Date: 2nd of May (Arabic buffet dinner), 3rd of May (Asian buffet dinner)
Time: 7.00 pm – 10.30 pm
From AED 245 per person
Spa Afternoon Delight
Relax this Eid with your choice of 60-minute treatment at Anantara Spa, coupled with a delicious afternoon tea. Enjoy with a loved one for even greater savings.
Date: Daily through May
Time: 1.00 pm – 6.00 pm
Price: AED 620 per person, AED 1,100 per couple
Venue: Anantara Spa