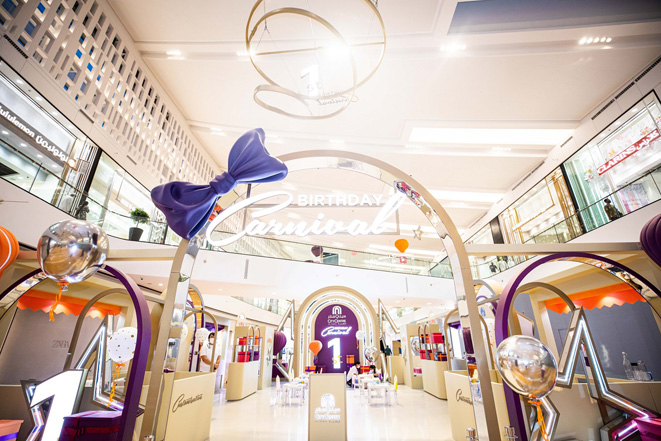 Month-Long Celebrations
City Centre Al Zahia, the most recent lifestyle and retail concept in the Northern Emirates marks its first successful year.
The mall will celebrate the special occasion by rewarding Sharjah and the wider UAE community from March 1 to 31 with unique engaging experiences.
Sharjah, United Arab Emirates, March , 2022: City Centre Al Zahia, the latest lifestyle and retail concept in Sharjah is inviting the community to come together to mark its one-year anniversary. With month-long celebrations, the community destination is offering family-friendly activities, must-see shows, and instant prizes to be won.
From March 1–13, City Centre Al Zahia will be kicking off the fun with a Birthday Carnival experience. This includes daily kids workshops and activities from 4-10pm, and features cupcake decorating, slime confetti making, a customisation station, and access to a claw machine for a chance to grab fantastic gadgets and prizes. Visitors can enter when they spend AED 200 or more at the super-regional mall.
"For the last 12 months, City Centre Al Zahia has played an active role in enhancing the retail and entertainment offering in Sharjah, and we look forward to contributing and serving our customers for many more years to come. Our mission is to uplift our surrounding communities, which is why we feel it is important to connect with our customers individually through unique surprises and interactive experiences. The mall has certainly become a focal point and pillar of the community and in line with Majid Al Futtaim's vision to create great moments for everyone, everyday, we would like to invite everyone to celebrate this important milestone with us" said Fuad Sharaf, Managing Director, UAE Shopping Malls, Majid Al Futtaim Properties.
During the month, visitors can also look forward to two fantastic shows at City Centre Al Zahia — perfect for keeping little ones entertained. Running from March 3-6 and March 10-13 from 4pm-9pm, the free to attend 'Toys Factory' will highlight the unique story behind every toy's life. Whilst March 17-27 will see the entertainment continue with PAW PATROL, in a Northern Emirates first. When shoppers spend AED 200 or more, they can enjoy the activities zone with daily meet and greets, whilst the show is free to experience.
Plus, March 10-15 will see the mall deliver complimentary birthday cupcakes to the Al Zahia community from the mall's very own branded truck. Tempting flavours will include chocolate, vanilla, and red velvet to ensure everyone can taste and experience the joy of commemorating one year of great moments.
To honour the commitment and optimistic spirit of Sharjah and the wider Northern Emirates, City Centre Al Zahia will also be unveiling an installation featuring names of 150 Majid Al Futtaim employees who make the mall what it is today. Launched during the global pandemic, many remained as focused and diligent as ever to deliver yet another world-class offering and the acknowledgement of their efforts will be honoured by the mall later this month.
To find out further information and the terms and conditions, visit www.citycentrealzahia.com.