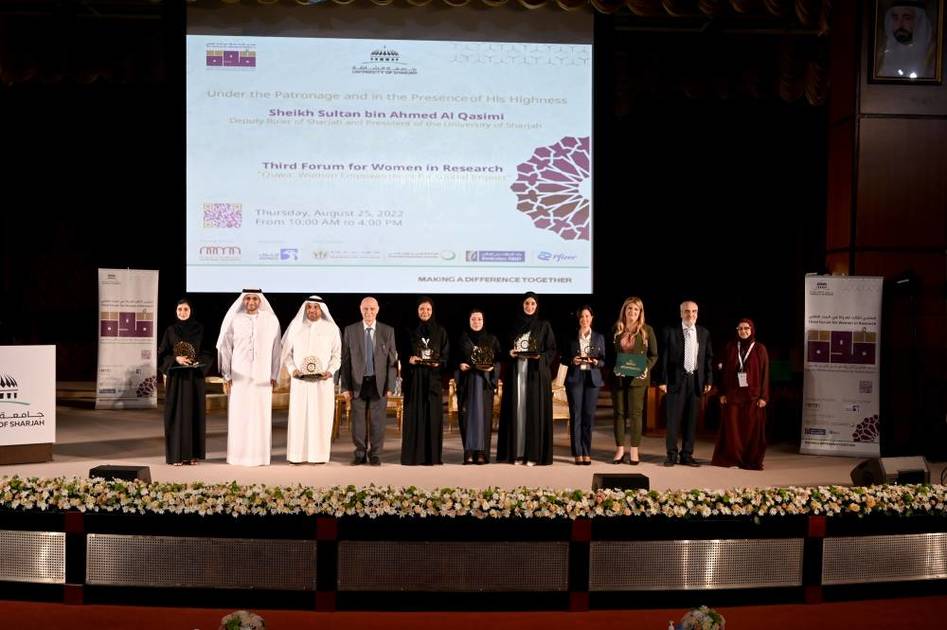 Dubai: "Bugten"
Dubai Electricity and Water Authority deltog i det tredje Forum for Women in Scientific Research arrangeret af University of Sharjah, der faldt sammen med Emirati Day, for at diskutere et sæt forskning og videnskabelige artikler om kvinders spørgsmål i videnskabelig forskning og deres forskningsinteresser. Myndighedens Forsknings- og Udviklingscenter præsenterede under forummet to diskussionssessioner.Den første var om patentet registreret af centret, om projektet med at måle refleksionen af ​​solstråling på overflader ved hjælp af et autonomt køretøj; Den anden handler om at skabe integrerede solcellepaneler til at fungere i barske klimaer.
Saeed Mohammed Al Tayer, administrerende direktør og administrerende direktør for myndigheden, sagde: "Myndigheden giver et positivt og lykkeligt arbejdsmiljø for sine medarbejdere, støtter kvinders empowerment, aktiverer deres kreative og kreative energier og udvikler deres personlige og livsfærdigheder, så at de kan følge med udviklingen og håndtere forskellige udfordringer og opdrage den lovende kommende generation på en sikker og forsvarlig måde. Myndighedens støtte til sine kvindelige Emirati-medarbejdere fra forskellige sektorer af myndigheden har resulteret i at gøre dem til en inspirerende regional og global model og en væsentlig partner i UAE's renæssance og velstand. Myndigheden er en af ​​de nationale institutioner, der støtter kvinder i energisektoren, især vedvarende og ren energi og bæredygtighed, hvilket gjorde den til en model for offentlige og private institutioner og agenturer i og uden for landet.
Han tilføjede: "Kvindelige Emirati-ansatte i myndigheden beviser dagligt deres effektivitet og deres væsentlige rolle i at styrke myndighedens position som en af ​​de mest fremtrædende og førende serviceinstitutioner i verden. De udgør 83 % af den samlede kvindelige arbejdsstyrke i myndigheden, og deres procentdel i Forsknings- og Udviklingscentret er 93 % af den samlede kvindelige arbejdsstyrke, og de har høje kvalifikationer inden for de videnskabelige og ingeniørmæssige områder. Centret omfatter 44 mandlige og kvindelige forskere, herunder 26 ph.d.- og MA-indehavere.
Han roste Emirati kvindelige medarbejderes rolle i centret for at nå myndighedens mål om at gøre centret til en global platform, der leverer innovative løsninger og teknologier til at forbedre driften og servicedriften i de forskellige sektorer af serviceinstitutioner i verden.
Mens Dr. Hamid Al Nuaimi, direktør for University of Sharjah, sagde, "Forum, der blev afholdt i år under sloganet "Empowering Women for Global Impact" har til formål at tilskynde kvinder til at udmærke sig på videnskabelige områder ved at præsentere kvindelige forskeres resultater inden for forskellige forskningsområder. University of Sharjah rangerer først i praktisk forskning i UAE, ifølge Scopus-databasen, hvor mange universitetsforskere spiller en afgørende rolle i at opnå dette. Forummet har været bemærkelsesværdigt succesfuldt i løbet af de sidste to år med deltagelse af flere lokale universiteter og institutter. Deltagelsen blev også udvidet i år, da 379 kvindelige forskere fra 64 universiteter fra UAE og Gulf Cooperation Council deltog, hvilket vil inspirere kvinder til fortsat at udvide deres viden og udvikle deres kompetencer inden for forskellige områder.
Under forummet holdt Eng. Noura Al Hammadi, fra Forsknings- og Innovationscentret, en hovedtale om myndighedens resultater med at styrke kvinder og yde elementerne af støtte til sine kvindelige medarbejdere, for at fastholde deres lederskab på alle områder af det nationale arbejde.