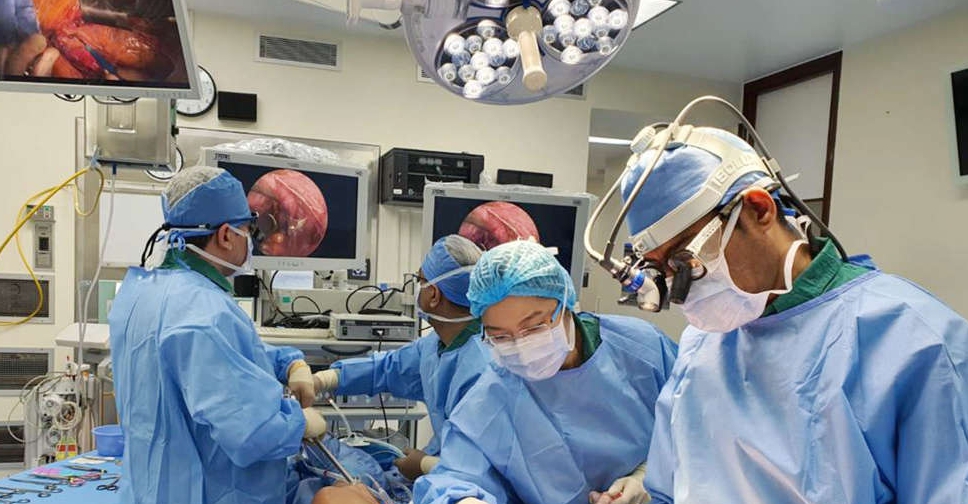 Supplied
Doctors at the Dubai Health Authority (DHA) have saved the life of a man after carrying out a highly complex surgery that lasted eight hours.
The 36-year-old GCC national, who felt a sudden chest pain while attending a New Year's Eve event, was admitted to the DHA's field hospital before being transferred to Rashid Hospital and then to Dubai Hospital.
Doctors successfully replaced the patient's dissected aorta and blood flow was restored to other arteries in the brain, intestines, kidneys and heart.
Dr. Ayman Majzoub, Emergency Medicine Specialist at Rashid Hospital, said that in the majority of such cases, the patient dies before reaching the hospital or within 24 hours of reaching the hospital, in the absence of quick intervention and accurate diagnosis.
He highlighted that the swift coordination between emergency doctors at Rashid Hospital and the various medical departments in the authority's hospitals, including Dubai Hospital, ensured timely specialised care.
In this particular case, the patient was immediately referred to the Cardiothoracic Surgery Department at Dubai Hospital for urgent surgical intervention.
Dr. Obaid Al Jassim, Consultant and Head of the Department said the surgery was particularly complex as the patient had a dissected aorta which means blood supply was affected to all the main organs, including the heart, brain, kidneys and all the intestines.
The procedure took 8 hours, during which doctors replaced the affected aortic valve and the main part of the aorta and conducted re-implantation of the coronary arteries and arteries of the brain.
DHA doctors save life of patient after eight-hour complex cardiac surgery. Doctors successfully replaced the dissected aorta and conducted reperfusion of the arteries of the heart, brain, kidneys and intestines. pic.twitter.com/KaFkxxbbOM

— هيئة الصحة بدبي (@DHA_Dubai) February 2, 2022

More from UAE