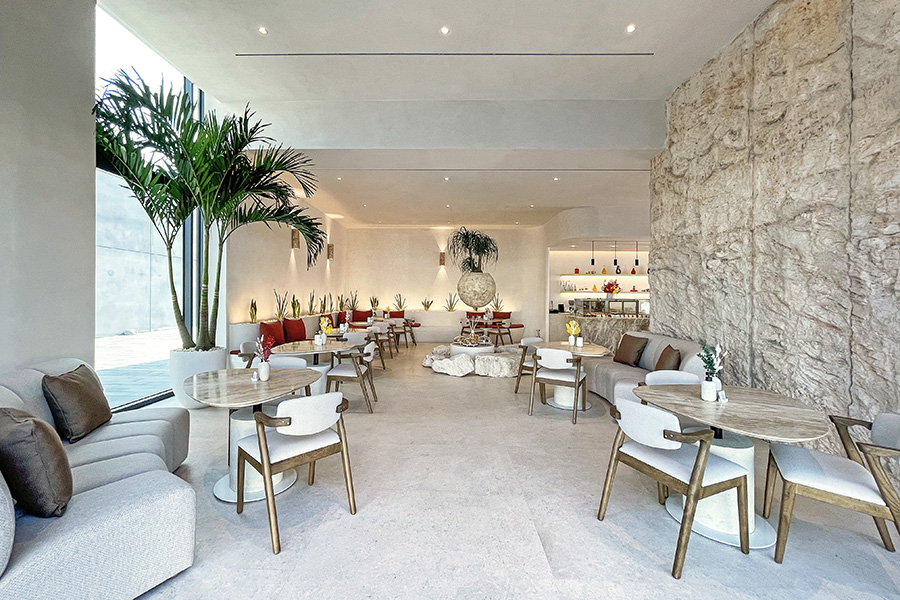 Inspired by the mountainous landscape of the United Arab Emirates (UAE), the new café Caia is the latest amenity to debut at the Boxpark Dubai shopping complex. Locally based Kart Group handled the design of the bright and earthy space, which channels the Bedouin terrain via natural hues and raw finishes, like marble and a wall of exposed stone.
"Dubai is a city that is often referred to as 'a bubble' and described by its glitz and glamour. Most people are unfamiliar with the striking nature the Emirates has to offer, such as its rough mountain landscape that can be found in the North and East," says Mustafa Khamash, managing director at Kart. "We utilized this to bring peace and calm to the hustle-bustle of the city."
A sense of purity is evoked through the café's monotone composition, which is offset by a variety of Maldivian palms that perpetuate the café's organic theme. To create the jagged stone wall panels, the design team filled silicon molds of the Hatta mountains with glass fiber reinforced concrete. A local artist was then tapped to oversee post-processing and ensure a realistic quality.
Among a medley of custom minimalist furniture, the oversized stone counter serves as a focal point of the interior. The counter is complemented by tables and large planters—one of which is suspended above a display table accented with large boulders—made from the same stone.
More from HD:
What I've Learned Podcast: Dyonne Fashina
Judges Announced for the 18th Annual HD Awards
Register Now: HD Expo + Conference 2022